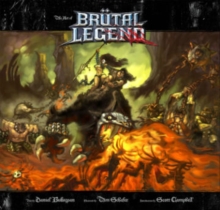 The Art of Brutal Legend
Hardback
Description
Behold the Power of Rock! The Art of Brutal Legend is themonumental collection of metal-themed paintings, drawings, and sketches from thecreative talents of Tim Schafer and the Double Fine Art Team.
Lavishlyreproduced artwork is complemented by candid commentary about the vision,inspirations, and black-magic artistry used to bring this fiendish nightmare tolife.
With more than 600 pieces of concept art and the complete illustrated loreof the game, The Art of Brutal Legend will melt your face with itssheer awesomeness!
Information
Format: Hardback
Pages: 252 pages
Publisher: Udon Entertainment Corp
Publication Date: 09/04/2013
Category: Illustration
ISBN: 9781926778648