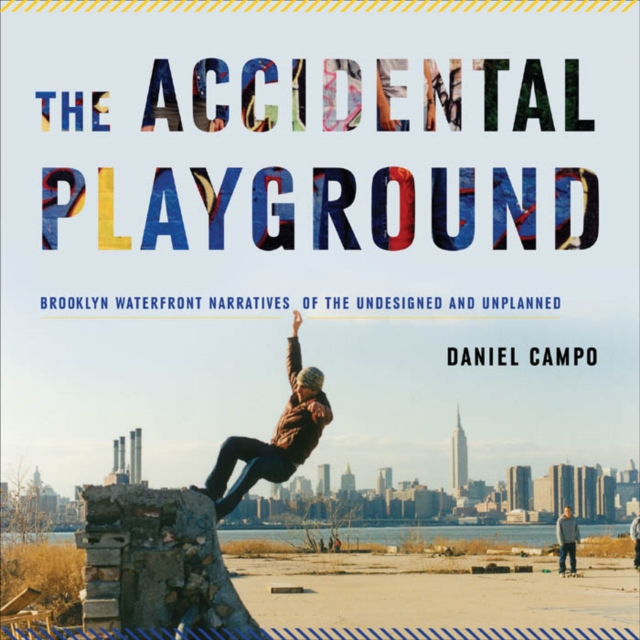 The Accidental Playground : Brooklyn Waterfront Narratives of the Undesigned and Unplanned
Paperback / softback
Description
The Accidental Playground explores the remarkable landscape created by individuals and small groups who occupied and rebuilt an abandoned Brooklyn waterfront.
While local residents, activists, garbage haulers, real estate developers, speculators, and two city administrations fought over the fate of the former Brooklyn Eastern District Terminal (BEDT), others simply took to this decaying edge, transforming it into a unique venue for leisure, creative, and everyday practices.
These occupiers and do-it-yourself builders created their own waterfront parks and civic spaces absent every resource needed for successful urban development, including plans, designs, capital, professional assistance, consensus, and permission from the waterfront's owners.
Amid trash, ruins, weeds, homeless encampments, and the operation of an active garbage transfer station, they inadvertently created the "Brooklyn Riviera" and made this waterfront a destination that offered much more than its panoramic vistas of the Manhattan skyline.
The terminal evolved into the home turf for unusual and sometimes spectacular recreational, social, and creative subcultures, including the skateboarders who built a short-lived but nationally renowned skatepark, a twenty-five-piece "public" marching band, fire performance troupes, artists, photographers, and filmmakers.
At the same time it served the basic recreational needs of local residents.
Collapsing piers became great places to catch fish, sunbathe, or take in the views; the foundation of a demolished warehouse became an ideal place to picnic, practice music, or do an art project; rubble-strewn earth became a compelling setting for film and fashion shoots; a broken bulkhead became a beach; and thick patches of weeds dotted by ailanthus trees became a jungle.
These reclamations, all but ignored by city and state governments and property interests that were set to transform this waterfront, momentarily added to the distinctive cultural landscape of the city's most bohemian and rapidly changing neighborhood. Drawing on a rich mix of documentary strategies, including observation, ethnography, photography, and first-person narrative, Daniel Campo probes this accidental playground, allowing those who created it to share and examine their own narratives, perspectives, and conflicts.
The multiple constituencies of this waterfront were surprisingly diverse, their stories colorful and provocative.
When taken together, Campo argues, they suggest a radical reimagining of urban parks and public spaces, and the practices by which they are created and maintained.
The Accidental Playground, which treats readers to an utterly compelling story, is an exciting and distinctive contribution to the growing literature on unplanned spaces and practices in cities today.
Information
Format:Paperback / softback
Pages:304 pages, 66 Black & White Illustrations50 Color Illustrations
Publisher:Fordham University Press
Publication Date:10/09/2013
Category:
ISBN:9780823251865
Information
Format:Paperback / softback
Pages:304 pages, 66 Black & White Illustrations50 Color Illustrations
Publisher:Fordham University Press
Publication Date:10/09/2013
Category:
ISBN:9780823251865