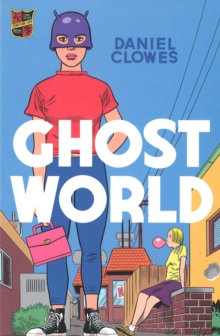 Description
Ghost World is the story of Enid and Rebecca, teenage friends facing the unwelcome prospect of adulthood, and the uncertain future of their complicated relationship.
Clowes conjures a balanced semblance, both tender and objective, of their fragile existence, capturing the mundane thrills and hourly tragedies of a waning adolescence, as he follows a tenuous narrative thread through the fragmented lives of these two fully realised young women.
Information
Format: Paperback
Pages: 80 pages
Publisher: Random House Children's Publishers UK
Publication Date: 15/07/2000
Category: Comics and Graphic Novels
ISBN: 9780224060882
Free Home Delivery
on all orders
Pick up orders
from local bookshops
Reviews
Showing 1 - 4 of 4 reviews.
Review by Jargoneer
16/06/2015
Much praised graphic novel adapted into a much praised film.Best friends Enid and Becky are best friends; adolescent girls on the cusp of adulthood. Enid is more opinionated, insecure about her physical appearance, generally less mature as she seeking her 'true' personality. Becky is attractive, more a follower of Enid than an instigator and more comfortable in her own skin. They have the faux cynicism of youth, spending much of their time making snide comments to each other about other people and the world in general; while outwardly following more acceptable social etiquette. They discuss potential boyfriends, sex and what they want to do with their lives. Eventually as time moves on they grower further apart until their friendship is more-or-less a thing of the past.The book is less a novel than a collection of linked short stories or vignettes, probably as result of it being published periodically in <i>Eightball</i>. This works well when establishing the characters but is less successful in developing them – the final couple of chapters feel disjointed from the rest as if there are strips missing. Nominally described as black and white the artwork is actually tinted; green in the copy I read but there appears to some variation between editions regarding this. Clowes art is relatively straightforward, comprised of strong simple lines. (The artwork actually simplifies over the length of the book as Clowes gradually adopts a simpler style). This works well in <i>Ghost World</i> by focusing the reader onto the story and the characters rather than spending more time analysing detailed artwork.The problem with focusing the reader onto the story and the characters is that both tread such a well-worn path. The story of childhood friends gradually growing apart is an oft-told tale in books, film, television and song – one leaves to go places/abroad/the big city, the other is left behind trapped in a mundane existence. (Of course, films especially often reverse this with the one who left (now harassed or bitter or trapped in the rat race) having to go back to the small town they escaped from and experiencing a spiritual reawakening). <i>Ghost World</i> is no different – the catalyst that starts the decline in their relationship is Enid applying for college and not telling Becky. Even from the first few pages it is obvious that Enid will be the one that leaves, that Becky is on the verge of accepting the situation.With a clichéd plot the stress of the book falls on the characters but again they are follow pre-determined patterns. Enid is the outsider who is confused about what she wants but she knows that she wants more than is on offer on Main Street; Becky, on the other hand, really just wants to fit into the society around her. Clowes never threatens to alter the dynamic of the relationship, of the characters – Becky is never allowed to step from behind Enid and he leaves her stranded in the shadows.<i>Ghost World</i> is not a bad book, it is enjoyable, but it has been over-praised, possibly as result of it being more human in a medium that is dominated by superheroes. The journey Clowes takes us on is not an exciting one of discovery but a pleasant one through familiar places.
Review by iftyzaidi
16/06/2015
Two cynical, world-weary high-school girls approach graduation and life beyond it with a sense of ennui and uncertainty. This is actually a graphic novel that should probably rate 5 stars - it is an incredibly well-drawn and written portrait of fear and loathing in a small town but I was possibly not in the frame of mind to appreciate it as much as I should have. Will re-read this one down the line.
Review by timtom
16/06/2015
This is a good example of the new-era of american graphic novels: away from the superhero stereotypes, realistic, cynical and well-drawn. But the storyline is a bit weak, and the two main characters, two pre-college best friends facing the slap of adulthood, are hard to relate to.
Review by elliepotten
16/06/2015
I loved the movie version of <i>Ghost World</i> as a teenager, so when a fellow book blogger offered to send on her copy of the graphic novel, I eagerly accepted. And I'm so glad I did! To start with I wasn't sure I was going to like the style, either in terms of the art work OR the dialogue, but the further I delved, the more I appreciated it. It's actually made up of several short and largely self-contained vignettes that fall along a linear timeline, rather than following one big story arc, which probably helped, because I could dip into it for light relief in between chapters of another novel. It had its kooky moments, and its poignant ones, and it was a good excuse to watch the movie again for the first time in years. I think I like the adaptation more, but it was still a lot of fun!