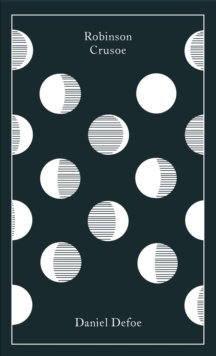 Description
Daniel Defoe's great masterpiece, in a gorgeous new clothbound edition designed by the award-winning Coralie Bickford-Smith.
These delectable and collectible Penguin editions are bound in high-quality colourful, tactile cloth with foil stamped into the design'I walk'd about on the shore, lifting up my hands, and my whole being, as I may say, wrapt up in the contemplation of my deliverance ... reflecting upon all my comrades that were drown'd, and that there should not be one soul sav'd but my self ... 'Who has not dreamed of life on an exotic isle, far away from civilization?
Here is the novel which has inspired countless imitations by lesser writers, none of which equal the power and originality of Defoe's famous book.
Robinson Crusoe, set ashore on an island after a terrible storm at sea, is forced to make do with only a knife, some tobacco, and a pipe.
He learns how to build a canoe, make bread, and endure endless solitude.
That is, until, twenty-four years later, when he confronts another human being.
First published in 1719, Robinson Crusoe has been praised by such writers as James Joyce, Virginia Woolf, and Samuel Johnson as one of the greatest novels in the English language.'Robinson Crusoe has a universal appeal, a story that goes right to the core of existence' Simon Armitage
Information
Format: Hardback
Pages: 288 pages
Publisher: Penguin Books Ltd
Publication Date: 28/11/2013
ISBN: 9780141393407
Other Formats
Paperback from £2.50
Hardback from £5.09
EPUB from £0.99
CD-Audio from £8.75
Free Home Delivery
on all orders
Pick up orders
from local bookshops
Reviews
Showing 1 - 1 of 1 reviews.
Review by bookworm12
16/06/2015
Classic novels sometimes have the occasional racist references and usually it doesn't bother me too much. I take it with a grain of salt and try to remember that it was written during a different time period and reflects an earlier belief system. I still don't like it, but there's nothing we can do about it at this point and it's usually a minor point in the book. This one was different though. There's something disturbing about the way Robinson mentions slavery so casually. He joins a ship on the condition that he'll get a cut of the profits made from the slaves they transport. He also escapes being enslaved on an island with a young boy, only to sell the boy into slavery once they are rescued. Robinson spends more than 20 years on an island by himself before interacting with another living soul, (it reminded me a lot of Cast Away, which I'm sure took huge inspiration from this novel). When he finally gains a companion, the infamous Friday, he decides to treat him as a slave instead of an equal. The first thing he teaches him is how to call him Master. He also decides to name him Friday instead of attempting to find out his actual name. He continuously refers to Friday as an ignorant savage, all the while saying how he loves him dearly. When he discovers that Friday's people don't live too far away, his first concern is that Friday will forget that he is his slave and try to return to them. It's unbelievably selfish. Yes, Friday loves him and feels indebted to him, but I felt like Robinson took advantage of this in a horrible way. Robinson's devotion to God and regret for his past behavior seems to come and go with each mood. He swings from thanking God for providing food and shelter for him, to lamenting the fact that he could have been living on a huge slave plantation if his boat hadn't been shipwrecked. All of that being said; there are some things I liked about the book. Robinson is forced to get very creative to survive on the island and it's interesting to see how he creates a new home for himself. Also, his solitude makes him reflective and he makes some wonderful observations as he examines his life. In the end, I'm glad I read it, but I think Robinson is a self-centered jerkface. A few great lines: "That all the good things in the world are of no farther good to us than for our use. And that whatever we may heap up to give others we enjoy only as much as we can use and no more." Robinson felt this strongly after he killed more than he could eat or collected more wood than he needed. He watched it rot away when he didn't use it and realized that it was useless to hoard extra food, etc. because it just went to waste. "How frequently, in the course of our lives, the evil, which in itself we seek most to shun, and which, when we are fallen into is the most dreadful to us, is often times the very means or door of our deliverance, by which alone we can be raised again from the affliction we are fallen into." "Thus fear of danger is 10,000 times more terrifying than danger itself when apparent to the eyes. And we find the burden of anxiety greater by much than the evil which we were anxious about."
Also in the The Penguin English Library series | View all