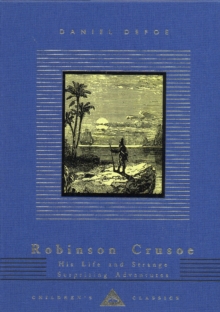 Description
Defoe's most celebrated story of Crusoe's shipwreck, his resourcefulness and ingenuity in his soliatry life on a desert island and his rescue of Man Friday has been abridged and retold many times since its publication (in two volumes) in 1719.
It even appeared recently in graphic-novel form. In 1968 Kathleen Lines determined to make the original text more accessible to young readers by breaking Defoe's original, continuous narrative into chapters, slightly cutting Crusoe's long meditations, and compressing the relevant bits of THE FARTHER ADVENTURES into a neat Epilogue, so that readers learn what happened to Friday.
The evocative engravings are reproduced from a mid-nineteenth-century edition published by Cassell, Petter & Gilpin.
Information
Format: Hardback
Pages: 409 pages
Publisher: Everyman
Publication Date: 01/10/1993
Category: Classic
ISBN: 9781857159189
Other Formats
Paperback from £2.50
EPUB from £0.99
Hardback from £5.09
CD-Audio from £8.75
Free Home Delivery
on all orders
Pick up orders
from local bookshops
Reviews
Showing 1 - 1 of 1 reviews.
Review by becker2558
16/06/2015
When I first read this book I was around 10 years old... So you might be able to imagine how that went. Honestly, it was way too complex for my age, with vocabulary and grammar way over my head. Unfortunately, the second time I read it was only a year later... So once again, you can probably imagine how that went. But the reason this book had such an impact on me, the reason I will never forget it, is that I thought it was the most interesting adventure story I had ever read. Even though I had the utmost amount of difficulty dissecting the paragraphs and trying to figure out what people were saying (including the narrator), I did find myself following the basic plot. All I can remember was feelings of pain for a man who was stuck on an island along for so long, and the joy of all the accomplishments he made while on the island. I always think of it as a truly epic story of a man overcoming adversity. How could it be possible that a book as long as this, and as complicated as this, managed to capture and hold the attention of a 10 or 11 year old kid? It was simply the gripping storyline and emotion-stirring events that took hold of me. Because of this, I found myself unable to put a book down that I couldn't completely understand. I do plan to go back and read it again when I have a chance. Hopefully will more comprehension it will have an even greater impact on me.