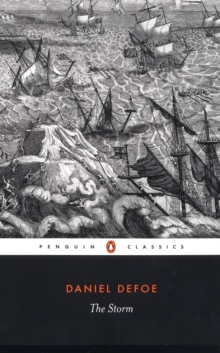 Description
On the evening of 26th November 1703, a cyclone from the north Atlantic hammered into southern Britain at over seventy miles an hour, claiming the lives of over 8,000 people. Eyewitnesses reported seeing cows left stranded in the branches of trees and windmills ablaze from the friction of their whirling sails. For Defoe, bankrupt and just released from prison for seditious writings, the storm struck during one of his bleakest moments. But it also furnished him with the material for his first book, and in his powerful depiction of private suffering and individual survival played out against a backdrop of public calamity we can trace the outlines of his later masterpieces such as A Journal of the Plague Year and Robinson Crusoe.
Information
Format: Paperback
Pages: 272 pages
Publisher: Penguin Books Ltd
Publication Date: 27/01/2005
Category: Literary essays
ISBN: 9780141439921
Other Formats
EPUB from £2.99
Paperback from £12.85
Hardback from £22.95
Paperback / softback from £8.10
Free Home Delivery
on all orders
Pick up orders
from local bookshops
Reviews
Showing 1 - 1 of 1 reviews.
Review by the.ken.petersen
16/06/2015
This is one of the earliest pieces of journalism to survive and a blueprint for any aspiring reporter.To really appreciate this book, one needs to try to relocate oneself into an early eighteenth century mindset. The Sun (newspaper) was not even a shudder upon the horizon, journalism was only slowly emerging from its pamphlet stage and the in depth coverage of a topic was a new concept. Add to this that the UK had just been hit by a storm, the ferocity of which, had never been experienced within recorded memory, and for which nothing had truly prepared the people. From this perspective, Defoe's book is an awe inspiring work. He not only records the events from many perspectives, not simply its effect upon the ruling classes, as we might expect now, but also from the man in the street (sometimes literally, if his house had been torn up). Defoe also encouraged people from around the country to send him their account of the storm and, rather than regurgitating these tales as his own, he includes them, verbatim, allowing the reader to decide upon the veracity thereof (Would that twenty-first century reportage were so honest!).