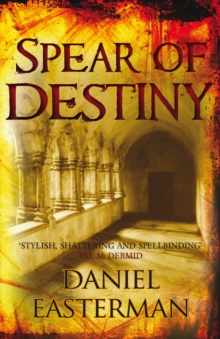 The Spear of Destiny
Paperback
Description
1942. Entrenched in the searing sands of Libya, a group of soldiers uncover a tomb.
Buried in the ancient dust they find a macabre crown of thorns and the devastatingly powerful Spear of Destiny.
They've discovered the last resting place of Christ. 2002 Gerald Usherwood and his old army pal Max Chippendale reunite to trade stories and spread Christmas cheer.
But dark shadows visit the old friends in the dead of night and make them pay the ultimate price for the secrets they stole.
Gerald's grandson, DCI Ethan Usherwood, is left to piece together the mystery behind the killings and to uncover the treasure they kept hidden for so many years.
A desperate hunt for the ultimate truth, "Spear of Destiny" is undeniably Daniel Easterman's most powerful thriller to date.
Information
Format: Paperback
Pages: 384 pages
Publisher: Allison & Busby
Publication Date: 07/06/2010
Category: Thriller / suspense
ISBN: 9780749007188
Free Home Delivery
on all orders
Pick up orders
from local bookshops
Reviews
Showing 1 - 2 of 2 reviews.
Review by DekeDastardly
16/06/2015
Spear of Destiny has a big, bold storyline, part Da Vinci Code, part Indiana Jones, and it cracks along at a rapid pace, however it is let down by awful characterisation, and some dreadful segues.Two examples are the outrageously convenient chance meeting with Ilona and how she immediately turns from shy country girl into Lara Croft, and a comical description of Ethan's escape from a burning, smoke filled, locked room, emerging half dead and then carrying on as if nothing had happened without a hair out of place. It actually had me cringing and laughing, however I suspect Easterman is well aware of these nuances, how could he not be, no he just wants the story to move on any old how and get on with the next blockbuster, though for me it insults his intended readership. So from that perspective if you can accept the ludicrous aspects of the writing you may be able to plough through as I did as it's not a bad romp, and I'm not suggesting it can't be enjoyed as such, but in the end the shortcomings mean I would never pick up another Easterman book, one was quite enough.
Review by reading_fox
16/06/2015
Dire. Very poor, although at least competantly written. The basic plot started out almost intersting, but went downhill rapidly. A family christmas gathering is marred by the dramatic death of the grandfather and his old war comrade. Fortunately one of the attendees is a police officer, and he discovers the cousin he's been flirting with isn't atually related him, but does know a great deal about the archelogy of the artifacts of Jesus, that were apparently found in the desert by the grandfather, but lost again. She's kidnapped by the Nazi based baddies and a big chase leads to a hiddiously obvious final battle. Bad plotting, spoils the whole thing. In addition there is little tension and poor characterisation. Don't bother reading this.