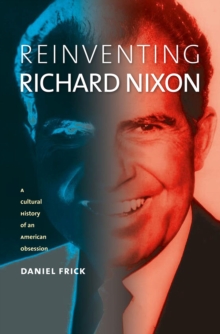 Reinventing Richard Nixon : A Cultural History of an American Obsession
Hardback
Description
Nixon's the One! proclaimed his campaign paraphernalia. ""Tricky Dick!"" retorted his detractors. From presidential savior for conservative America to bete noire for the political Left, the Richard Nixon persona has worn many masks and labels.
In fiction and poetry and pop songs, in television and film, no other national political figure has so thoroughly saturated our public consciousness with so many contrasting images.Focusing on the process of Nixon's continuous reinvention, Daniel Frick reveals a figure who continues to expose key fault lines in the nation's self-definition.
Drawing on references ranging from All in the Family to Zappa and the Mothers of Invention, he shows how Nixon has become one of America's most durable and multifaceted icons in the ongoing and fierce debates over the import and meaning of the last sixty years of national life.Examining Nixon's autobiographies and political memorabilia, Frick offers far-reaching perceptions not only of the man but of Nixon's version of himself - contrasted with those who would interpret him differently.
He cites reinventions of Nixon from the late 1980s, particularly the museum at the Richard Nixon Library and Birthplace, to demonstrate the resilience of certain national mythic narratives in the face of liberal critiques. And he recounts how celebrants at Nixon's state funeral, at which Bob Dole's eulogy depicted a God-fearing American hero, attempted to bury the sources of our divisions over him, rendering in some minds the judgment of ""redeemed statesman"" to erase his status as ""disgraced president.""With dozens of illustrations - Nixon posing with Elvis (the National Archives' most requested photo), Nixonian cultural artifacts, classic editorial cartoons - no other book collects in one place such varied images of Nixon from so many diverse media.
These reinforce Frick's probing analysis to help us understand why we disagree about Nixon - and why it matters how we resolve our disagreements.Whether your image of Nixon is shaped by his autobiography ""Six Crises"", Oliver Stone's surprisingly sympathetic film ""Nixon"", John Adams' landmark opera ""Nixon in China"", or by the saga of Watergate, ""Reinventing Richard Nixon"" expands on all perspectives.
It shows how, through these contradictory mythic stories, we continue to reinvent, much like Nixon himself, our own sense of national identity.
Information
Format:Hardback
Pages:344 pages, 45 illustrations
Publisher:University Press of Kansas
Publication Date:30/09/2008
Category:
ISBN:9780700615995
Also in the CultureAmerica series | View all