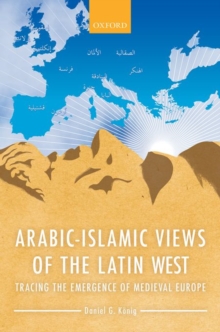 Arabic-Islamic Views of the Latin West : Tracing the Emergence of Medieval Europe
Hardback
Description
Arabic-Islamic Views of the Latin West provides an insight into how the Arabic-Islamic world perceived medieval Western Europe in an age that is usually associated with the rise and expansion of Islam, the Spanish Reconquista, and the Crusades.
Previous scholarship has maintained that the Arabic-Islamic world regarded Western Europe as a cultural backwater at the periphery of civilization that clung to a superseded religion.
It holds mental barriers imposedby Islam responsible for the Muslim world's arrogant and ignorant attitude towards its northern neighbours.
This study refutes this view by focussing on the mechanisms of transmission and reception that characterized the flow of information between both cultural spheres.
By explaining how Arabic-Islamicscholars acquired and processed data on medieval Western Europe, it traces the two-fold 'emergence' of Latin-Christian Europe - a sphere that increasingly encroached upon the Mediterranean and therefore became more and more important in Arabic-Islamic scholarly literature. Chapter One questions previous interpretations of related Arabic-Islamic records that reduce a large and differentiated range of Arabic-Islamic perceptions to a single basic pattern subsumed under the keywords 'ignorance', 'indifference', and 'arrogance'.
Chapter Two lists channels of transmission by means of which information on the Latin-Christian sphere reached the Arabic-Islamic sphere.
Chapter Three deals with the general factors that influenced the reception and presentation of this dataat the hands of Arabic-Islamic scholars.
Chapters Four to Eight analyse how these scholars acquired and dealt with information on themes such as the western dimension of the Roman Empire, the Visigoths, the Franks, the papacy and, finally, Western Europe in the age of Latin-Christian expansionism. Against this background, Chapter Nine provides a concluding re-evaluation.
Information
Format: Hardback
Pages: 452 pages
Publisher: Oxford University Press
Publication Date: 19/11/2015
Category: Historiography
ISBN: 9780198737193
Free Home Delivery
on all orders
Pick up orders
from local bookshops