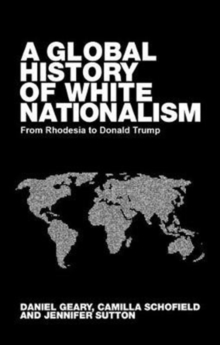 Global White Nationalism : From Apartheid to Trump
Hardback
Description
The morning after the 2016 Brexit referendum, Donald Trump tweeted that Britons 'took their country back, just like we will take America back.' During his presidential campaign, Trump forged a close alliance with Nigel Farage, leader of the U.K.
Independence Party and the foremost advocate of British withdrawal from the European Union.
Both Trump and Farage promised a return to lost national greatness through an end to migration.
Far from a disappearing ideology, white supremacy has proven resilient and adaptive. Global White Nationalism reveals that the recent rise of ethnonationalism and white supremacist violence in the English-speaking world need to be understood as related developments in a longer history of exchange among white nationalists in Britain, the U.S. and other formerly British settler colonies. Exploring histories of Australia, Britain, Southern Africa and the United States, this book shows how a modern form of white nationalism emerged across the English-speaking world in response to calls for racial equality and in reaction to the forces of decolonization, civil rights, mass migration and the rise of international institutions such as the United Nations. And it is still at work to this day. Uncovering a post-1945 transnational history of white nationalism for the first time, Global White Nationalism offers vital historical perspective on the contemporary politics of Anglophone white supremacy. -- .
Information
Format: Hardback
Pages: 272 pages
Publisher: Manchester University Press
Publication Date: 15/09/2020
ISBN: 9781526147066