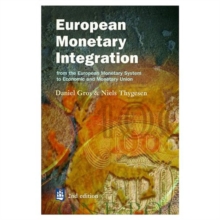 European Monetary Integration
Paperback
Description
Daniel Gros and Niels Thygesen provide an unrivalled account of the history, theory and practice of monetary integration in Europe.
Starting with a brief history of European monetary integration up to the start of the EMS in 1978, the authors go on to examine in more detail the workings of the EMS, including an analysis of the speculative attacks in 1992-95.
The next part of the book is a substantially rewritten account of the economics of monetary union with a fresh look at the costs and benefits, the changing relationships between economic and monetary integration and the global implications of EMU.
The final part of the book critically examines the specific steps towards monetary union starting from the Delors Report to the Maastricht Treaty with the Convergence criteria and finally to the establishment of a European System of Central Banks.
The concluding chapter assesses the outlook for EMU.In the course of the book the authors draw upon their extensive original research and also survey the huge amount of literature that has appeared in books, journal articles and professional briefing papers.
European Monetary Integration remains essential reading for all students of European monetary integration and international macroeconomics, as well as anybody with a professional interest in European economics.
Information
Format: Paperback
Pages: 592 pages
Publisher: Pearson Education Limited
Publication Date: 04/03/1998
Category: Monetary economics
ISBN: 9780582320154
Free Home Delivery
on all orders
Pick up orders
from local bookshops