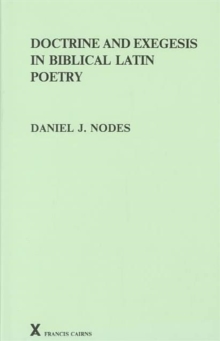 Doctrine and Exegesis in Biblical Latin Poetry
Hardback
Description
Up to the eighteenth century, the Latin biblical epic poets of late antiquity were much read, and were influential on various strands within European poetry.
Milton's Paradise Lost is the culmination of the English branch of the tradition.
Renewed scholarly interest in the literature of the late Roman period has included a revaluation of its biblical poetry.
But attention has been concentrated on the rhetorical skill of the writers; in terms of content it is still often assumed that biblical epic is a straightforward rendering of the bible narrative. Doctrine and Exegesis in Biblical Latin Poetry throws light on an important but under-explored aspect of the content of these works.
In a thorough study of how two areas of doctrine significant in late antiquity - the nature of God, and the theory of creation - are represented in the biblical epics, Daniel Nodes shows that the poets were actively commenting on, and propagating particular views of, the vital doctrinal issues of their time. The writers represented in this volume range in time from the fourth to the sixth centuries: the female poet Proba (whose Virgilian Cento is one of the earliest examples of biblical epic), Cyprianus Gallus, Hilarius poeta , Claudius Marius Victorius, the north-African Dracontius, and Avitus, Bishop of Vienne.
The author draws on the works of the Church Fathers, both Greek and Latin, and on Jewish exegetical writings.
The book should interest students of later Latin literature, church history, and theology and exegesis.
Information
Format: Hardback
Pages: 147 pages, x + 147 pages.
Publisher: Francis Cairns Publications Ltd
Publication Date: 01/12/1993
Category: Poetry anthologies (various poets)
ISBN: 9780905205861