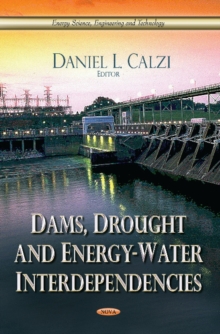 Dams, Drought & Energy-Water Interdependencies
Hardback
Description
The U.S. Department of Energy (DOE) and the U.S. Department of Homeland Security (DHS) collaborated to examine the interdependencies between two critical infrastructure sectors -- dams and energy.
This book highlights the importance of hydroelectric power generation, with a particular emphasis on the variability of weather patterns and competing demands for water which determine the water available for hydropower production.
In recent years, various regions of the Nation suffered drought, impacting stakeholders in both the dams and energy sectors.
Droughts have the potential to affect the operation of dams and reduce hydropower production, which can result in higher electricity costs to utilities and customers.
Conversely, too much water can further complicate the operation of dams in ways that can be detrimental to hydropower production and to the infrastructure of the dams.
Although hydroelectric facilities are a type of asset that falls under the auspices of the dams sector, they are also an important element to the energy sector because the electric power they generate is critical to maintaining the reliability of the Nations electricity supply.
Therefore, this joint effort underscores the value of a cross-sector partnership model in the identification and discussion of issues significant to dam and utilities owners and operators, through which can help enhance their resilience against the potential impacts associated with the variability of weather patterns and extreme fluctuations of water flow.
Information
Format: Hardback
Pages: 180 pages
Publisher: Nova Science Publishers Inc
Publication Date: 25/11/2013
Category: Sanitary & municipal engineering
ISBN: 9781628089424