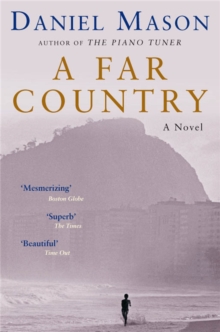 Description
When they spoke of it in town, they called it simply the city, as if it was the only city in the world ...Raised in a remote village on the edge of a sugarcane plantation, Isabel was born with the gift and curse of 'seeing farther'.
When drought and war grip their land, her beloved brother Isaias joins a great exodus to a teeming, labyrinthine city in the south.
Soon the fourteen-year-old Isabel follows, forsaking the only home she's ever known, her sole consolation the thought of being with her brother again.
But when she arrives, she discovers that Isaias has disappeared.
Weeks and then months pass, until one day, armed only with her unshakeable hope, Isabel descends into the chaos of the city to find him.
Told with extraordinary empathy, richly evocative, the story of Isabel's quest -- of her dignity and determination, her deeply spiritual world -- becomes a universal tale about the bonds of family and a sister's love for her brother, about being caught between two worlds, and about true heroism.
A tour de force of emotional and narrative power, it is destined to become a classic. 'Mason is a superb storyteller. He inhabits Isabel's mind with fine sensitivity, and cleverly uses his imaginary setting to write of dauntless, timeless love and loyalty' The Times
Information
Format: Paperback
Pages: 200 pages
Publisher: Pan Macmillan
Publication Date: 01/02/2008
ISBN: 9780330492706
Free Home Delivery
on all orders
Pick up orders
from local bookshops
Reviews
Showing 1 - 2 of 2 reviews.
Review by blm52
16/06/2015
Brilliant, at all levels. A beautifully-written story about a young rural girl's journey to the city in search of her much-loved missing brother. The most heart-wrenching book I have read since Rohinton Mistry's A Fine Balance.
Review by patrickgarson
16/06/2015
The simplicity of A Far Country belies the swooning compliments scattered across the cover. As another entry into the "Children in Developing Countries" genre, it is pretty standard stuff, and by the conclusion I found myself searching for something that would set it apart.Isabel has a hard life in the backlands with her family, struggling to survive amidst drought and unscrupulous land grabs. When her brother ventures south to the big city, and then disappears, she sets out on the journey to find him.That's pretty much it for the novel, and there isn't a dazzling panoply of characters to fill out this slim plot. Life in the slums is with Isabel is occasionally punctuated by outbursts of violence and terror, but in the main is staid, and the emotional centre remains the quest for her brother. I would love to say that Mason renders his anonymous central or south American city with a dizzying veracity, but that's not the case. The city itself seems believable enough, but compared to the rich texture contained in books like A Fine Balance, there's really nothing here to hold on to. This remains the case with the characters and plotting as well. Isabel is certainly very realistic, but she's also fourteen, naive, and generally on the passive side. The other characters are rendered quickly, believably and somewhat dully. They're not cliche; just very very... expected. This is compounded because Mason largely eschews dialogue for a kind of literary neo-realism. I suspect that if you like neorealism, you might enjoy the slow cadences of A Far Country. But for me, absent a strong narrative, interesting characters, or a rich and fascinating world, I found myself wondering what Mason was trying to bring to this crowded genre. By its conclusion the book was reduced to a kind of faded sepia in my mind, and I can't recommend it. There's nothing really wrong with it, but there's nothing really right, either.