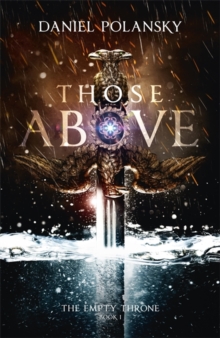 Description
They enslaved humanity three thousand years ago. Tall, strong, perfect, superhuman and near immortal they rule from their glittering palaces in the eternal city in the centre of the world.
They are called Those Above by their subjects. They enforce their will with fire and sword. Twenty five years ago mankind mustered an army and rose up against them, only to be slaughtered in a terrible battle.
Hope died that day, but hatred survived. Whispers of another revolt are beginning to stir in the hearts of the oppressed: a woman, widowed in the war, who has dedicated her life to revenge; the general, the only man to ever defeat one of Those Above in single combat, summoned forth to raise a new legion; and a boy killer who rises from the gutter to lead an uprising in the capital. Those Above is the first of an extraordinary new fantasy epic by the author of the acclaimed Low Town series that will sweep the reader into a wholly alien, wholly recognizable world of rebellion and revenge, of love and of death, of intrigue and pitiless war.
Information
Format: Hardback
Pages: 400 pages
Publisher: Hodder & Stoughton General Division
Publication Date: 26/02/2015
Category: Thriller / suspense
ISBN: 9781444779899
Other Formats
Paperback from £7.85
EPUB from £5.99
Free Home Delivery
on all orders
Pick up orders
from local bookshops
Reviews
Showing 1 - 1 of 1 reviews.
Review by ColeReadsBooks
16/06/2015
Prepare yourself to be blown away by Those Above.Thousands of years ago humanity became enslaved to the Eternal. Four fingered instead of five, this species are strong, powerful and deadly. Humanity toils under their will and strength.Twenty five years ago, humanity took a stand against those above. Revolting against their oppressors. In a bloody battle humans were slaughtered, and they like their hope, were destroyed. That was in the past and now, years later, hope is stirring once again, there are whispers of a new rising, and stirring in the hearts of men. The fate of humanity will fall on the shoulders of certain people: an infamous war general who defeated one of the eternal in combat – the only human known to do so, an impoverished young boy and a widowed woman on the hunt for revenge. Can they free humanity from the iron fist of those above?This book is intense! This is the first book by Daniel Polansky that I've read, but since finishing it I've had a look at his Low Town trilogy and I think that is definitely going to be on my purchase list in the future! If you're like me and love a bit of epic fantasy, this is going to be just the book for you. The premise is fantastic. Humanity is enslaved, toiling for those above with just a tiny flicker of hope. It's different and it really intrigued me right from the start. Also this book has one of the most spine tingling and fascinating opening paragraphs I've ever read:"Seen from the view of a bird, or of a god – which of course are not the same thing – the landscape might have been beautiful. A clear day in early summer, stalks high in the fields, the scattered currant bushes crowned with small red flowers. Far to the east a river ran fast and clear, a translucent snake of blue churning south-west towards the bay and the sea beyond. In half an hour it would be so thick with blood as to choke the the perch, bubble the salmon to the surface."Holy cow. If that doesn't get you rushing to Amazon right now I'm not sure what will. The world building in this book is incredible. There's so much detail, and it's even more impressive because the story comes from multiple perspectives and so each setting has it's own distinct look and feel to it. The characters all feel very real and three dimensional, each of our four main characters have their own hopes, fears and plans laid out and it's really interesting to see how they weave in and out of each other's story. I was really fascinated by Eudokia. She's lost her husband in the war, and hasn't stopped planning her revenge. She might seem like the kind "Revered Mother" that everyone claims her to be, but in the capital she's the one who holds the power, she bribes, flatters and does whatever needs to be done in order to secure her goals.This is quite a dense book. There are quite a lot of characters and different customs and titles did take some getting used to, but after the first few chapters it's easy to immerse yourself in the story. It took a while to read purely because I had to put it down a few times to comprehend all I had read. It's got lots of twist and turns, plenty of action and gore thrown in too. A really enjoyable book, the only problem being the wait for book two!
Also in the The Empty Throne series