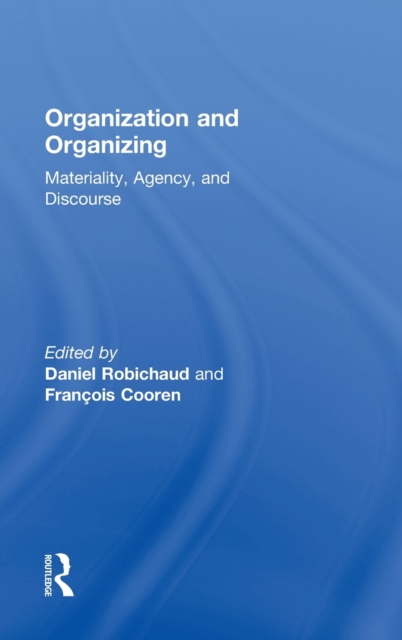 Organization and Organizing : Materiality, Agency and Discourse
Description
Recipient of the '2013 Top Edited Book Award', by the Organizational Communication Division of the National Communication Association (USA) This timely collection addresses central issues in organizational communication theory on the nature of organizing and organization.
The unique strength of this volume is its contribution to the conception of materiality, agency, and discourse in current theorizing and research on the constitution of organizations.
It addresses such questions as: To what extent should the materiality of texts and artifacts be accounted for in a process view of organization? What part does materiality play in the process by which organizations achieve continuity in time and space? In what sense do artifacts perform a role in human communication and interaction and in the constitution of organization? What are the voices and entities participating in the emergence and stabilization of organizational reality?
The work represents scholarship going on in various parts of the world, and features contributions that overcome traditional conceptions of the nature of organizing by addressing in specific ways the difficult issues of the performative character of agency; materiality as the basis of the iterability of communication and continuity of organizations; and discourse as both textuality and interaction.
The contributions laid out in this book also pay tribute to the work of the organizational communication theorist James R.
Taylor, who developed a view of organization as deeply rooted in communication and language.
Contributors extend and challenge Taylor's communicative view by tackling issues and assumptions left implicit in his work.
Information
Format:
Pages:280 pages, 5 Tables, black and white
Publisher:Taylor & Francis Ltd
Publication Date:11/03/2013
Category:
ISBN:9780415529303
Information
Format:
Pages:280 pages, 5 Tables, black and white
Publisher:Taylor & Francis Ltd
Publication Date:11/03/2013
Category:
ISBN:9780415529303