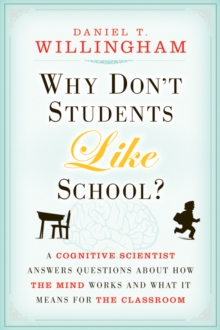 Why Don't Students Like School? a Cognitive Scientist Answers Questions About How the Mind Works and What It Means for the Classroom
Paperback
Description
Easy-to-apply, scientifically-based approaches for engaging students in the classroomCognitive scientist Dan Willingham focuses his acclaimed research on the biological and cognitive basis of learning.
His book will help teachers improve their practice by explaining how they and their students think and learn.
It reveals-the importance of story, emotion, memory, context, and routine in building knowledge and creating lasting learning experiences. * Nine, easy-to-understand principles with clear applications for the classroom * Includes surprising findings, such as that intelligence is malleable, and that you cannot develop "thinking skills" without facts * How an understanding of the brain's workings can help teachers hone their teaching skills"Mr. Willingham's answers apply just as well outside the classroom.
Corporate trainers, marketers and, not least, parents -anyone who cares about how we learn-should find his book valuable reading."-Wall Street Journal
Information
Format: Paperback
Pages: 240 pages
Publisher: John Wiley and Sons Ltd
Publication Date: 25/02/2010
Category: Educational psychology
ISBN: 9780470591963
Other Formats
PDF from £12.47
EPUB from £12.47
Free Home Delivery
on all orders
Pick up orders
from local bookshops
Reviews
Showing 1 - 3 of 3 reviews.
Review by tobagotim
16/06/2015
This book is telling me how MY mind works and how I can make better use of it. I am not a classroom teacher. I have, however, watched the teachers who taught my kids over the years. The most successful of these was a first grade teacher. Since my son was in first grade in 1971-2, this teacher did not have the benefit of Prof. Willingham's book. However, she did manage to implement a teaching atmosphere in her classroom that followed many of the observations in this book. The result was that the next year, most of the second grade teachers in the school recognized the students who had been with my son's first grade class, and defined their job as bringing the other students up to their level by the end of the year.The job of a good teacher is complicated and requires a lot of organizational skills, as well as thought in planning and delivering a lesson that will connect with each child's knowledge base.I recommend this book for teachers and administrators and for parents and grandparents.
Review by markauch
16/06/2015
The is an incredibly thought provoking book. Willingham provides us with different answers to many well-known theories. He causes you to really think about what you already know and challenges us to revisit those thoughts and preconceived notions. A great read for any teacher, teacher in training, or anyone who wishes to find answers to things they may have thought they already knew. Willingham also writes this book for anyone to understand, in other words, it is not filled with professional jargon.
Review by barlow304
16/06/2015
In this fascinating book, Professor Willingham attempts to bridge the gap between what cognitive scientists have learned about the mind and what teachers do every day in school. Each chapter is shaped by a cognitive principle, which Willingham then explains. After that, the professor goes on to describe how this might affect classrooms. For instance, Chapter 2's principle is "Factual knowledge must precede skill." As Willingham explains, a student needs some knowledge about a subject in order to think about it. No knowledge equals no thinking. Classroom implications: be sure students have some background knowledge before asking them to think critically about a topic. And because the more you know, the easier it is to learn new material, getting students to read is crucial.For me the most amazing part of this book was the section on learning styles. As the author points out, there is no evidence that matching teaching methods to learning styles actually works. Matching teaching methods to content does positively affect learning, but trying to match individual learning styles does not help. Note that Prof. Willingham provides a very useful table that summarizes the cognitive principles and classroom implications on pp. 210 and 211.