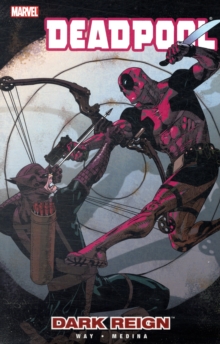 Deadpool Vol.2: Dark Reign
Paperback
Information
Format: Paperback
Pages: 120 pages, 1 Illustrations, unspecified
Publisher: Marvel Comics
Publication Date: 01/12/2009
Category: Superheroes
ISBN: 9780785132745
Free Home Delivery
on all orders
Pick up orders
from local bookshops
Reviews
Showing 1 - 2 of 2 reviews.
Review by schatzi
16/06/2015
It's really hard for me to rate this collection, mainly because it's so uneven. There are segments that I think are very good, and then there are segments that I think are absolute garbage. Generally speaking, Way seems to be decent when it comes to writing scenes that don't rely on a lot of humor. I do like Way's take on Deadpool's relationship with Bullseye, since they do have a long history of working together, even though the fight scene was less than amazing. Deadpool and Bullseye sharing a laugh together after the job was done was very good.Unfortunately, Deadpool has a reputation of being a very funny guy, so Way has to try to write humor, and the results are usually ridiculous (and not in the good way). I hate "Pool'o'vision" with the passion of a thousand burning suns. I hate that Deadpool apparently has a "split mind" now, so he's continually talking to the different parts of his brain. None of this is funny at all. And 95% of the time, neither is the "humor." In other hands, Deadpool is a snappy talker who can rattle off hilarious observations, all the while having some underlying angst that gives depth to the character. When Way's writing him, however, Deadpool is just some random idiot who isn't really funny at all and is shallow, shallow, shallow. I've been re-reading Joe Kelly's run on Deadpool recently, and there is absolutely NO comparison to him and Way; Deadpool was leagues better with Kelly at the helm.And the last page? Totally out of character, uncalled for, and without any purpose at all except some stupid attempt at shock value. That was the issue that made me stop picking up Deadpool in comic book form.
Review by jshillingford
16/06/2015
I've never read Deadpool before, though I'm familiar with the character just by being a Marvel fan. He hasn't crossed over into any of the main events I've read, until now. When I decided to read all the Dark Reign trades, he finally popped up on my radar. And it was a wild ride, to say the least!After getting over the initial shock, because this character is unlike any other I have ever read, I found Deadpool to be hysterically funny, unbelievably violent and overall a nice change of pace. Some of the dialog was lost on me until I figured out Deadpool was talking to himself. Or more accurately, he and his brain were having full-on conversations throughout. And sometimes he imagines how encounters go before readers see how they actually unfolded. It's pretty cool, and very funny, but requires you to pay careful attention.His role in Dark Reign is not essential to the continuity; readers could skip both books and not miss anything. But they would miss out on a brilliant story. Hired by Nick Fury to steal info on the Skrull Queen during Secret Invasion, that info was in turn stolen by Norman Osborn who used it to ascend to power as a National hero. Deadpool missed out on a big payday, which he thinks Osborn owes him, and has been a pain in Osborn's ass ever since. This trade covers Tiger Shark and Bullseye's attempts to kill Deadpool. Only, a man who can sew his head back on after decapitation isn't so easy to kill.One minor quibble I had is that mid-way through this trade there's a paragraph relating how Deadpool hired Taskmasker to help him defeat the Thunderbolts and get a big payday. That storyline is told in full in the trade Dark Reign: Deadpool / Thunderbolts. The two trades should have been combined into one collection & I don't get why Marvel didn't do so. However, I highly recommend readers pick that one up also, as it was even more entertaining than this collection.Overall, I think I'm hooked on Deadpool and will definitely be reading more. I wouldn't recommend this for young readers because it is extremely violent, even gory at times, and Deadpool is not strictly a hero. He can and will commit murder. But for adults, Deadpool is an experience every comic reader should try!