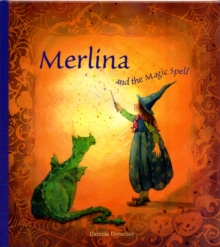 Merlina and the Magic Spell
Hardback
Description
It's harvest time, and Merlina the little sorceress and her friend Igor the dragon are busily gathering fruit and vegetables from their garden.
When Igor stands on a sharp thorn, Merlina has to find the right spell to make his toe better.
Several not-so-magic spells later and the thorn is still there, and poor Igor is still in pain.
That is, until he tries a tasty-looking chilli pepper, and gets quite a shock!
Maybe magic doesn't always hold the key to their problems... Daniela Drescher brings the charming world of Merlina the struggling sorceress to life with her beautiful illustrations.
Each page is packed with delightful details for children to enjoy time and time again.
Information
Format: Hardback
Pages: 24 pages, colour illustrations
Publisher: Floris Books
Publication Date: 01/09/2009
Category: Picture books
ISBN: 9780863157141
Free Home Delivery
on all orders
Pick up orders
from local bookshops
Reviews
Showing 1 - 1 of 1 reviews.
Review by AbigailAdams26
16/06/2015
German author/artist Daniela Drescher, whose delightful picture-book fantasies tend to focus on diminutive magical beings such as fairies (<u>In the Land of Fairies</u>) and elves (<u>The Elves' Big Adventure</u>), here turns her attention to another kind of enchantment, presenting the tale of Merlina the sorceress, and her dragon companion Igor. Originally published under the title <u>Merlind, die kleine Zauberin</u> (literally, "Merlind, the Little Sorceress"), this sweet tale follows Merlina through a variety of spells, as she attempts to aid Igor in extracting a painful thorn from his foot.Although Drescher uses the term <i>die Zauberin</i> (sorceress/enchantress), rather than <i>die Hexe</i> (witch), I have added <u>Melina and the Magic Spell</u> to my 'witchy-witches' shelves (close enough, say I), and think that it is an excellent selection for those looking for gentler witchy fare. The artwork, as is usual in Drescher's books, is just lovely, with a vivid palette of colors, and many charming little details (I particularly liked the little mice that are running around, in most of the scenes). There is no mention of Halloween (I'm not really sure how prevalent it is, as a holiday in Germany), but the final scene, which features a few Jack-o-Lanterns, makes it an appropriate selection for this time of year. Recommended to young readers looking for witchy tales with a sweet (rather than scary) bent. Now, if only they'd translate the accompanying cookbook, <u>Küchenzauber mit Merlind und Igor: Ein Kochbilderbuch</u>!