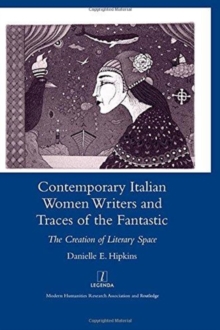 Contemporary Italian Women Writers and Traces of the Fantastic : The Creation of Literary Space
Hardback
Description
Contemporary fantastic fiction, particularly that written by women, often challenges traditional literary practice.
At the same time the predominantly male-authored canon of fantastic literature offers a problematic range of gender stereotypes for female authors to 're-write'.
Fantastic tropes, of space in particular, enable three important contemporary Italian female writers (Paola Capriolo, b. 1962; Francesca Duranti, b. 1935 and Rossana Ombres, b. 1931) to encounter and counter anxieties about writing from the female subject.
All three writers begin by exploring the hermetic, fantastic space of enclosure with a critical, or troubled, eye, but eventually opt for wider national, and often international spaces, in which only a 'fantastic trace' remains.
This shift mirrors their own increasingly confident distance from male-authored literary models and demonstrates the creative input that these writers bring to the literary canon, by redefining its generic boundaries.
Other Formats
EPUB from £55.55
PDF from £55.55
Free Home Delivery
on all orders
Pick up orders
from local bookshops