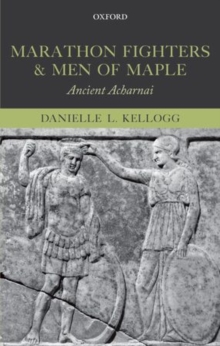 Marathon Fighters and Men of Maple : Ancient Acharnai
Hardback
Description
In ancient Athenian democracy there were one hundred and thirty-nine official demes, or recognized population centres, which formed the foundation of the political system introduced by Kleisthenes in 508/7 BC.
Enrolment in one of these demes was a prerequisite for citizenship and participation in the Athenian socio-political system.
Acharnai was by far the largest of the Kleisthenic demes and one of the best known from the ancient sources, most notably Thucydides andAristophanes' comedy Acharnians; it therefore provides a rare opportunity for a comprehensive investigation into the workings of a rural deme.
In this volume, Kellogg combines literary, prosopographical, epigraphical, and archaeological evidence to create an encompassing overview of this dynamic and historical settlement with a well-developed identity and unique traditions. Such an investigation also functions as a corrective to a 'one size fits all' approach to rural Attica, which privileges the city and its political and economic opportunities over the countryside where most of the Athenian citizenry lived. This volume constitutesa new and distinctive contribution to the study of ancient Athens, and is a major advance in the analysis of the critically important role of the Attic demes in the economic, political, social, and religious structures of Athenian democracy.
Information
Format: Hardback
Pages: 364 pages
Publisher: Oxford University Press
Publication Date: 08/08/2013
Category: Ancient history: to c 500 CE
ISBN: 9780199645794
Free Home Delivery
on all orders
Pick up orders
from local bookshops