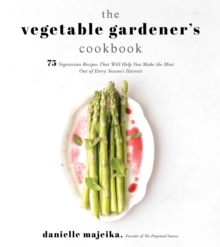 The Vegetable Gardener's Cookbook : 75 Vegetarian Recipes That Will Help You Make the Most out of Every Season's Harvest
Paperback / softback
Description
When you know how to cook and utilise produce, it's easy to prepare standout meals.
Danielle Majeika, farm-owner and founder of the blog The Perpetual Season, derives complexity of flavour from a harmonious balance of herbs, simple spices, farm-fresh vegetables, and cooking methods in this incredible cookbook. Danielle goes beyond traditional steamed veggies, utilizing techniques that help bring out unique, vibrant flavours - like roasting fennel and tomatoes with fresh rosemary in a cast iron skillet.
Every recipe highlights one or two vegetables that are easy to grow and popular at markets - like leeks, fennel, carrots, and tomatoes.
Recipes include Asparagus Vichyssoise for spring, Green Bean Tempura with Lemon Wasabi Mayonnaise for summer, Shaved Kohlrabi Salad with Apple and Sesame for fall, and French Shallot Soup for winter. Danielle also provides growing and harvesting tips in the chapter intros that gardeners will find useful and non-gardeners will be inspired by.
If you want a delectably spicy pepper harvest, for example, withhold water when they reach the point of maturity, as it increases levels of capsicum, and if you want to sweeten the taste of your tomatoes, boost their potassium with wood ash. This book will include 75 recipes and 75 full-colour photographs.
Information
Format: Paperback / softback
Pages: 176 pages, 75 photos
Publisher: Page Street Publishing Co.
Publication Date: 26/02/2019
Category: Vegetarian cookery
ISBN: 9781624147173