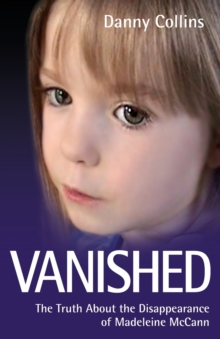 Vanished : The Truth About the Disappearance of Madeleine McCann
Paperback
Description
On the evening of May 3, 2007, Gerry and Kate McCann returned to theirresort apartment in Portugal's Algarve to every parents' worst nightmaretheir daughter, three-year-old Madeleine Beth McCann had vanished from her room.
Her disappearance sparked a worldwide manhunt. Poster campaigns, distraught pleas from the parents, and frenzied media coverage all ensuedbut still Madeleine's whereabouts remain a mystery.
Portuguese police initially commenced a search for Madeleine's abductor, but as the case dragged on the waters became muddied and controversy dogged the investigationBritish police were called in, suspects entered and departed the frame, sightings of Madeleine were reported from around the world, accusations about the thoroughness and competency of the Portuguese police were made, and the McCanns were scrutinized in the full glare of the media spotlightwith the Portuguese police even declaring Gerry and Kate suspects."
Information
Format: Paperback
Pages: 288 pages, 1x8 pages photographs
Publisher: John Blake Publishing Ltd
Publication Date: 16/05/2008
Category: True crime
ISBN: 9781844546145
Free Home Delivery
on all orders
Pick up orders
from local bookshops
Reviews
Showing 1 - 1 of 1 reviews.
Review by tomesofthesoul
16/06/2015
The case of Madeleine McCann gripped Europe during 2007, when the three year old went missing from her holiday villa never to be seen again. Her mother, Kate McCann has recently released a book telling the family's version of her disappearance and I thought it was an opportune time to read the earlier published account of the disappearance by investigative journalist Danny Collins.Whilst at first glance the book seems to be an impartial account of the case, it soon becomes apparent that it is really written from the position that the McCann's were completely innocent of any wrongdoing, even in leaving their children unattended, and focuses on discrediting the police investigation and criticizing the media; slightly hypocritical of a investigative journalist. At points the writer goes off on a tangent, telling tantalising stories about other missing children, even those who have been missing for decades and bear no relevance to the McCann case, abuse in children's homes or accusing all gypsies of being child abductors who frequently traffic children across Europe to use in begging operations.Overall the book could have really been half the length, detailing the facts of the case, and many of the chapters seem out-of-sequence and almost cut and paste from random articles on child abduction, rather than being an analysis of the investigation. As it was published in 2008 it is also woefully out of date, although progress in the case has been slow, and Madeleine has still not been found. It's only redeeming features are is it's ease to read and that it supports the less sensational theory that Madeleine wandered off from an unlocked and unsupervised villa rather than being abducted from her bed. It's rating is given as I did manage to finish it, albeit skipping paragraphs near the end, but other than that was not a joy to read, and a waste of £4 considering all the information could readily be found online.