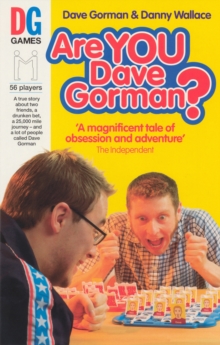 Are You Dave Gorman?
Paperback
Description
After a heavy night of tequila, flatmates Dave and Danny set off on what turns out to be a 24,000-mile journey to meet all the other Dave Gormans in the world.
They visit Scotland, Israel, America, France and Ireland.
They even hold a party in London where 50 Dave Gormans attend, including two women who have kindly changed their name via deed-poll.
Silly, but engrossing, fascinating and addictive - and a touching, funny story of two friends who grow to share a mutual obsession. 'A warm, funny, life-enhancing book' The Guardian.
Information
Format: Paperback
Pages: 384 pages
Publisher: Ebury Publishing
Publication Date: 20/04/2002
Category: Humour
ISBN: 9780091884710
Free Home Delivery
on all orders
Pick up orders
from local bookshops
Reviews
Showing 1 - 5 of 7 reviews.
Previous | Next
Review by LyzzyBee
16/06/2015
(11 October 2001)As I may have mentioned in my original post about this Month of Re-Reading, I chose a few representative books for this month to see if they were actually worth the re-read. This one, the Joanna Trollope (which I haven't got to yet) and the Molly Moynahan (which I might well not get to at all) fall into this category. I have quite a few "quest" books on my shelf, you know, the kind of book that starts with a daft bet and then tells the story of what happened next. Once you know who won the bet, is it worth keeping for a future re-read? Well, the answer as regards this one, which will stand for and thus protect all the others, is a resounding "Yes".I hadn't read this at all since the original purchase and read back in 2001 (a few days after I got together with M – I dimly remember buying stacks of books at the Books Etc. near his flat), and it's still fresh and funny, as well as endearing. In fact, it's probably more sweet and endearing than I remember, being very much about Dave and Danny's friendship. This friendship, and Danny's relationship with his girlfriend, is put to the test as they embark upon an almost accidental search for people called Dave Gorman. Having two writers alternating sections works well and allows for very funny double-aspect descriptions of the same events at times, although avoids being repetitive, and there's a palpable sense of the friendship and people behind the humour, which makes it more of a satisfying read than just whizzing through to see if they achieve their target. I like the epilogue, which updates us on various developments and appearances of badges and t-shirts in different TV programmes. This actually made me want to go and re-read other quest and travel books in my collection.
Review by aapjebaapje
16/06/2015
How glad I am that I read Googlewhack first. That was an excellent book but this one is too samey. Each chapter is the same. Dave Gorman finds another Dave Gorman. Danny Wallace moans about having to go with him. Not interesting at all.
Review by armysparkey
16/06/2015
A good read only caught a bit of the tv show so I did not know what to expect.The book takes you on a journey around the globe it makes you wonder if there are people aruond the word with your name but only for a second
Review by yaffa
16/06/2015
Very fun book about a couple of roommates off to hunt for 54 namesakes of one of them to settle a bet. Are there loads of Dave Gormen (plural for Dave Gorman)? Meet Dave Gormen from around the world wherever the ridiculous, hilarious obsession takes them.
Review by isabelx
16/06/2015
My favourite part was the trip to Norway. I was reading it at lunchtime at work and several people asked what I was reading, since I kept giggling.<i>'Me and my flatmate are big fans of your Norwegian ways. Look at my lobber.'I indicated my feet, cheerily.'Yes. I noticed. Just look at those. You are actually wearing them.''Yes.''Out, in front of other people.''Yes'.</i>