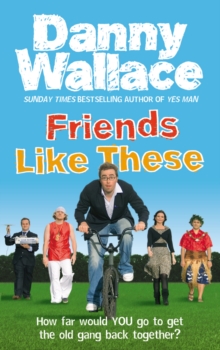 Friends Like These
Paperback
Description
Danny Wallace is about to turn thirty and his life has become a cliche.
Recently married and living in a smart new area of town, he's swapped pints for lattes and had even contemplated buying coasters.
Something wasn't right - he was feeling way too grown-up.
Until - Danny finds an old address book containing just twelve names.
His best mates as a kid. Where are they now? Who are they now? And how are they coping with this scary concept of being grown-up? And so begins a journey from A-Z, tracking down and meeting his old gang.
He travels from Berlin to Tokyo, from Sydney to LA. He even goes to Loughborough. He meets Fijian chiefs. German rappers. Some ninjas. And a carvery manager who's managed to solve time travel.
But how will they respond to a man they haven't seen in twenty years, turning up and asking if they're coming out to play?
Friends Like These is the story of what can happen when you track down your past, and of where the friendships you thought you'd outgrown can take you today...
Information
Format: Paperback
Pages: 416 pages
Publisher: Ebury Publishing
Publication Date: 03/07/2008
Category: Travel writing
ISBN: 9780091896768
Other Formats
Paperback from £7.65
EPUB from £3.99
Free Home Delivery
on all orders
Pick up orders
from local bookshops
Reviews
Showing 1 - 4 of 4 reviews.
Review by ian02054
16/06/2015
A good, funny, easy read. Wallace travels through his past to find out what his old school friends are doing now (they are not all in IT) and trys to meet up with them.. as with his previous books, this involves travel to far off places and a lot of hope that at the end of the journey he will find them.
Review by Phurge
16/06/2015
Danny has an engaging and quite readable writing style, but in comparison to previous efforts I found this a little self-indulgent. A guy looks up 12 of his old school friends - that's it. If you have a 1 hour Ryanair flight this is a passable way to spend the time.
Review by BoundTogetherForGood
16/06/2015
 I love what Danny was doing; meeting old friends again. I find that I am doing that through Facebook which I have found to be a good alternative to face-to-face meetings. Of course I don't live near many, well most, of the people I chat with on Facebook. So for me it is really the only option since I don't have a publisher paying for me to flit around the globe on such missions. I am certain that when I am nearer in location to some old friends we will get together again.I think I'd have enjoyed this more if it weren't so very similar in style to 'Are You Dave Gorman' by Danny Wallace and Dave Gorman and if I hadn't JUST finished reading that book before purchasing this one to read. I do like Danny's writing style and much prefer it to Gorman's; Gorman can get a bit whiney at times.
Review by gkleinman
16/06/2015
All of Danny Wallace's books are based on some crazy idea which is set into motion and made reality. In Join Me! Wallace starts his own cult, Yes Man he decides to say yes to everything and with Friends Like These he looks up all his old friends and catches up with them. I'm a big fan of Wallace's style and his writing is often light, funny and moves along at a great pace. For me Yes Man is a truly great book, Join Me close behind, but Friends Like These never quite reaches those heights. It's a pretty lofty bar Wallace has set so it's not a shock that this book doesn't reach it. It is however immensely entertaining and I do recommend it. But if you haven't read them I'd absolutely recommend you start with Yes Man and Join Me first