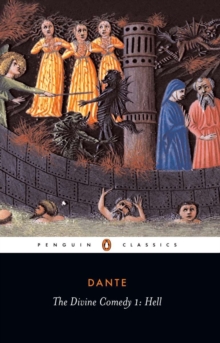 The Comedy of Dante Alighieri : Hell
Paperback
Description
Guided by the poet Virgil, Dante plunges to the very depths of Hell and embarks on his arduous journey towards God.
Together they descend through the nine circles of the underworld and encounter the tormented souls of the damned - from heretics and pagans to gluttons, criminals and seducers - who tell of their sad fates and predict events still to come in Dante's life.
In this first part of his Divine Comedy, Dante fused satire and humour with intellect and soaring passion to create an immortal Christian allegory of mankind's search for self-knowledge and spiritual enlightenment.
Information
Format: Paperback
Pages: 352 pages
Publisher: Penguin Books Ltd
Publication Date: 30/06/1950
Category: Poetry by individual poets
ISBN: 9780140440065
Other Formats
Paperback / softback from £19.95
Paperback from £10.31
Hardback from £21.95
Free Home Delivery
on all orders
Pick up orders
from local bookshops
Reviews
Showing 1 - 5 of 5 reviews.
Review by anodos99
16/06/2015
An excellent (rhyming) translation of Dante's epic by Dorothy L. Sayers. Very easy to read. The commentaries between cantos (by Sayers and heavily influenced by Charles Williams) are of great value for understanding both the social setting of the work and the deep philosophical and mythological imagery.
Review by CatyM
16/06/2015
I first tried reading this about ten years ago when I was studying medieval history, and didn't get very far. In fact, I can tell you that I got to the end of Canto 5, because that's where the margin notes in my copy finish. Reading it now, I can't imagine why I didn't get further. This was a translation by Dorothy L. Sayers (first published 1949), and I found it very accessible and easy to read. In her introduction, Sayers explains that she has stuck to the <i>terza rima</i> in which the original was written, sacrificing (she says) a little verbal accuracy in favour of retaining the speed and rhythm. She also explains at some length her approach to the rhyme-scheme and metre, her use of a wide range of English vocabulary including some colloquial phrases, and the ways in which she has tried to preserve the humour and tone of the original. I think that Sayers achieved great success in this: the vocabulary is gloriously rich, ranging from phrases which are positively Shakespearean all the way to the contemporary vernacular, and just about everything in between. The poetry is evocative and flows well, and the various tones and changes of mood are superbly conveyed.The book has extensive notes on the significant people encountered by the character of Dante in his journey through hell, and on the symbolism and imagery used by Dante the writer, which are not only engaging and well-written but also exceedingly useful. The introduction sets out the historical context in some detail, which is also very helpful: I could have given a detailed history of the Guelfs and Ghibellines ten years ago, but this time I was more than a little reliant on this introductory information to refresh my memory. The diagrams and maps of Dante's hell are also beneficial, as is the glossary of all the characters encountered. Together, the poetry and notes make this a very accessible translation for those who are unused to poetry, unfamiliar with the historical figures, or both. I found the story (if I can call it that) to be more easily understood than I had expected it to be, and also more entertaining than I had anticipated. I did, however, find that the various circles of hell began to merge together in my mind as in some cases there was either little detail given about them or they were very similar to other circles. I expected most of the symbolism in the book to pass me by - most symbolism generally does - but between Dante's own explanations and that in the notes I was able to appreciate far more than I expected to, and to overlook much less than I feared. The commentary on the political situation at the time, as well as that on the Church, is very definitely partisan - but is nonetheless insightful. I have the remainder of the <i>Divine Comedy</i> in the Sayers translation awaiting me on the shelf, and am now very definitely looking forward to reading it.
Review by duranain
16/06/2015
Fantastic. I am not a christian, but this book is just so incredibly well written, vivid, and poetic. Though I do commend the author notes the most, as without those I would have had no idea what was going on for a lot of the time. Dante is somewhat of a name dropper. Favorite part (not a commentary on who's right, I am referencing more the lyrical aspect and resultant imagery here) is the description of the punishment of Mohammed.
Review by LudieGrace
16/06/2015
Obviously an amazing work. I just got bogged down in the middle, and it took me forever to finish. I think I would have gotten far more out of it in the context of a class that dealt with the many layers of references, or if I had simply taken more time to read the notes...but as it was, I just didn't really commit to it on a level that could remotely do it justice. I still look forward to reading <i>Purgatorio</i> and <i>Paradiso</i>, though.
Review by landlocked54
16/06/2015
For years I had wanted to read Dante's Divine Comedy, but every time I thought of reading this epic poem it just seemed to be too daunting of a task. It wasn't until I visited Florence, Italy and saw the same mosaic on the ceiling of the baptistery of San Giovanni that Dante saw (which inspired him to eventually write the Divine Comedy) that I felt it the time had come to read Dante's epic work.<br/><br/>I started with the traditional English translation by Longfellow. At the encouragement of of a colleague, I quickly changed to Dorothy Sayers's translation from 1949. Sayers provides great commentary plus follows "Dante's terza rima stanzas."<br/><br/>There are numerous translations available but I'm glad I stuck with the Sayers translation. Having said that, I think it would be wise to read the traditional Longfellow translation at some point in time. Next up I'm looking forward to trying Robert and Jean Hollander's dual-language and more modern translations of the Divine Comedy.