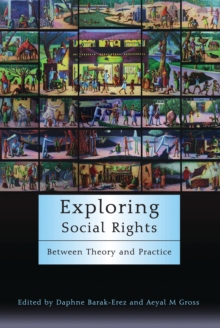 Exploring Social Rights : Between Theory and Practice
Paperback / softback
Description
Exploring Social Rights looks into the theoretical and practical implications of social rights.
The book is organised in five parts. Part I considers theoretical aspects of social rights, and looks into their place within political and legal theory and within the human rights tradition; Part II looks at the status of social rights in international law, with reference to the challenge of globalisation and to the significance of specific regional regulation (such as the European System); Part III includes discussions of various legal systems which are of special interest in this area (Canada, South Africa, India and Israel); Part IV looks at the content of a few central social rights (such as the right to education and the right to health); and Part V discusses the relevance of social rights to distinct social groups (women and people with disabilities).
The articles in the book, while using the category of social rights, also challenge the separation of rights into distinct categories and question the division of rights to 'civil' vs 'social' rights, from a perspective which considers all rights as 'social'. This book will be of interest to anyone concerned with human rights, the legal protection of social rights and social policy. 'Social rights are the stepchildren of the human rights family.
Are they really 'rights'? Can courts enforce them? And does it make any difference when they try? This remarkable collection of essays by distinguished scholars offers important new responses to all the basic questions.
Ranging across disciplinary and national boundaries and brimming with both theoretical and practical insights, the book is especially welcome in this moment of mounting inequalities and growing interest in the possibilities and perils of social rights.'William E Forbath, Lloyd M Bentsen Chair in Law and Professor of History,University of Texas at Austin'At the auspicious moment of the sixtieth anniversary of the Universal Declaration of Human Rights, and more than half a century since the beginning of the Human Rights Revolution-a time characterized by the end of the cold war, globalization and privatization, comes this important compilation which critically revisits the international commitment to social rights, and reconceives its core distinguishing principles-from crosscutting comparative, theoretical and practical perspectives-illuminating our commitment to human security.'Ruti Teitel, Ernst Stiefel Professor of Comparative Law, New York Law School. Author, 'Transitional Justice' (OUP 2002)
Information
Format: Paperback / softback
Pages: 460 pages
Publisher: Bloomsbury Publishing PLC
Publication Date: 01/09/2011
Category: International human rights law
ISBN: 9781849462556
Free Home Delivery
on all orders
Pick up orders
from local bookshops