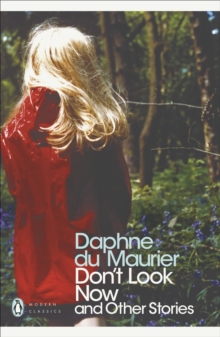 Don't Look Now and Other Stories
Paperback
Description
Collecting five stories of suspense, mystery and slow, creeping horror, Daphne Du Maurier's Don't Look Now and Other Stories includes an introduction by Susan Hill, author of The Woman in Black, in Penguin Modern Classics. John and Laura have come to Venice to try and escape the pain of their young daughter's death.
But when they encounter two old women who claim to have second sight, they find that instead of laying their ghosts to rest they become caught up in a train of increasingly strange and violent events.
Adapted into a terrifying film starring Julie Christie and Donald Sutherland, 'Don't Look Now' is The four other haunting, evocative stories in this volume also explore deep fears and longings, secrets and desires: 'Not After Midnight', in which a lonely teacher investigates a mysterious American couple; 'A Border Line Case', in which a young woman confronts her father's past and his associations with the IRA; 'The Way of the Cross', in which a party of pilgrims to Jerusalem encounter strange phenomena in the Garden of Gethsemane; and 'The Breakthrough', in which a scientist claims to be able to trap the soul at the point of death ...Daphne du Maurier (1907-89) - English novelist, biographer, and playwright, who published romantic suspense novels, mostly set on the coast of Cornwall. Du Maurier is best known for and Jamaica Inn (1936), filmed by Alfred Hitchcock in 1939, Rebecca (1938), filmed by Hitchcock in 1940, and The Birds (1952), filmed by Hitchcock in 1963.
If you enjoyed Don't Look Now and Other Stories, you might like Shirley Jackson's The Haunting of Hill House, also available in Penguin Modern Classics. 'Daphne du Maurier has no equal' Sunday Telegraph 'Du Maurier created a scale by which modern women can measure their feelings' Stephen King
Information
Format: Paperback
Pages: 272 pages
Publisher: Penguin Books Ltd
Publication Date: 29/06/2006
ISBN: 9780141188379
Other Formats
Hardback from £11.79
EPUB from £8.99
Free Home Delivery
on all orders
Pick up orders
from local bookshops
Reviews
Showing 1 - 2 of 2 reviews.
Review by brokenangelkisses
16/06/2015
Having read and loved du Maurier's 'Rebecca' I was intrigued when I found this collection of short stories. Would they be as atmospheric? As chilling? Would the characters be as memorable?Don't Look Back in AngerThe title story focuses on a couple who are visiting Venice in an attempt to overcome the death of their little girl. They meet two strange old ladies, one of whom claims to have the gift of second sight and makes a startling statement. As the couple try to pursue their trip, they quickly become caught up in increasingly strange events and separated.The characters are convincingly drawn, especially in their opposing reactions to the ladies, and the atmosphere is genuinely suspenseful as events become more dramatic. Du Maurier skilfully depicts a dark and foreboding Venice. I enjoyed reading the story right up until the ending, which I personally found ridiculous and thought detracted from the quality of the rest of the story. The ending is a bit surreal, which I suppose is in keeping with a story incorporating second sight, but the dialogue felt out of place to me. That said, I recently saw a discussion on television that made me think the dialogue more plausible, and other readers have suggested to me that my response is a bit harsh, although they also found the ending rather odd.I am aware that there is a film version of this story that is much longer (the story is only 54 pages in this edition) and I can see how that could be achieved: there is the potential to really extend the action and incorporate a lot of creepy setting. However, as I have not seen the film I am unable to comment on how this compares.Not After MidnightA rather strange man takes a holiday and begins to spy on his neighbours, convinced that there is something odd happening. (Pot? Kettle?) Soon, he is caught up in a situation that he doesn't quite understand.This story is immediately dramatic because the man reflects miserably on a non-identified 'bug' that has caused him to quit teaching and contemplate hospitalisation. He blames the events of his summer holiday, which is an intriguing proposition. I did not find him a likeable character but, once again, I did find him a convincing one. This is a first person narration which I found made it more interesting. (I think otherwise I would have just thought 'what an idiot' and not cared what happened to him.) Gradually, almost imperceptibly, the mood darkens and other characters take on a more menacing aspect. As with the previous story, the psychology of the character is important and most of the threat comes from his interpretation of events rather than from definitive clues. The story developed logically and it engaged my interest throughout. The ending is chilling.A Border-Line CaseAfter the death of her father a young girl seeks out her father's old friend for reasons that are unclear even to her. As in the previous story, she becomes caught up in a new and dangerous world through her actions.Once again, du Maurier creates a topsy turvey world where the protagonist's interpretation of events is key. However, in this story I found the events unconvincing and the 'twist' predictable. I felt a bit disappointed.The Way of the CrossThis is a particularly strange story because it isn't really a story. A group of pilgrims wander around Jerusalem, all with their own back story and petty concerns, all of whom are concerned with appearances. In turn, each of them suffers as a result of their interactions and choices.I found this a very odd 'story' to read as it seemed to have no overarching storyline or conclusion. None of the characters were likeable even though several of them were quite vulnerable. However, I did find the characterisation convincing and felt du Maurier had captured the minor jealousies and frictions between the group well. Reading about the pain they endured was a bit sad but as the narrative simply moved on to the next victim I didn't really care about them.The timing of their visit to Jerusalem and the final lines of the book suggest that there is some deeper significance to the story but I haven't a clue what it is and the story didn't really stick in my mind except for, as always, the excellent evocation of setting.The BreakthroughA young engineer is sent to assist an eccentric recluse. He goes reluctantly but is soon deeply involved in the work they are pursuing in 'psychic energy' and human souls.For perhaps the strangest story of the collection, du Maurier returns to the first person voice. Stephen, the narrator, is convincing in his reluctance to be involved in what he dismisses as ridiculous mucking about rather than research, but less so in his later acceptance of and involvement in the program. There seemed to be no reason for him to change his opinion about a matter he had felt so strongly about. The high point of the tension happens when an unexpected result occurs and the ending is ambiguous. I found this a readable story, but perhaps rather dated given the technology that every household has these days, never mind a research centre. I wouldn't bother to read it again.OverallIt is a shame that there is no introduction to this book to collate themes or discuss du Maurier's influences. I think it would have been a pleasant touch and helped to bind the stories together, as they do seem rather disparate. One common theme is du Maurier's flirtation with the supernatural, although she never commits to it: there are always rational explanations available, but it adds an extra layer of chill to the stories. I felt that this did help to make them more dramatic and intense. The strongest story is undoubtedly the first one and it is well worth reading for the chill it gives, despite the somewhat odd ending. The second story is also very readable. I felt that the last three stories were rather weak and I would not really recommend them despite the atmospheric writing. I would borrow rather than buy this book.
Review by JennyElizabeth
16/06/2015
Maurier is the Queen of writing for effect. Her stories are full of dark irony and intrigue, wisely structured and with twists that keep you reading on. I liked "A Boarderline Case" the best, having the most interesting characters. Many of her characters are quite dislikeable, so there is the feeling of desert on the part of the reader when despicable things happen to them. That being said, there was no one loveable or that I cared about except perhaps Ken in all his light-hearted naievity.