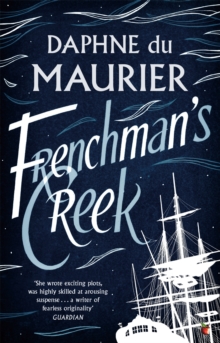 Frenchman's Creek
Paperback
Description
The Restoration Court knows Lady Dona St Columb to be ripe for any folly, any outrage that will alter the tedium of her days.
But there is another, secret Dona who longs for freedom, honest love - and sweetness, even if it is spiced with danger.To escape the shallowness of court life, Dona retreats to Navron, her husband's remote Cornish estate.
There, she seeks peace in its solitary woods and hidden creeks.
But she finds instead a daring pirate, hunted by all Cornwall, a Frenchman who, like Dona, would gamble his life for a moment's joy.
Together, they embark upon a quest rife with danger and glory, one which bestows upon Dona the ultimate choice: sacrifice her lover to certain death or risk her own life to save him.
Information
Format: Paperback
Pages: 272 pages
Publisher: Little, Brown Book Group
Publication Date: 01/05/2003
ISBN: 9781844080410
Other Formats
Paperback from £6.49
Hardback from £11.79
EPUB from £5.99
CD-Audio from £13.79
Free Home Delivery
on all orders
Pick up orders
from local bookshops
Reviews
Showing 1 - 5 of 6 reviews.
Previous | Next
Review by LibraryLou
16/06/2015
Another great story from Du Maurier. More girly than others, but a great read nonetheless. What girl hasnt dreamt of being swept away by a feared Pirate, and having adventures. Brilliant book.
Review by LauraH
16/06/2015
This is a lovely tale of an upper-class woman who is bored of her pompous daily life and desperately desires the freedom to do as she pleases. Du Maurier's writting brings the main character (Lady Dona St Columb) to life to a degree that the reader is able to empathise with her. Perfect for those who enjoy romance and history.
Review by Misfit
16/06/2015
Set during the reign of Charles II, Lady Dona St. Columb finally tires of her husband and his hard playing friends and abandons London for their estate in Cornwall. Dona and her children thrive in the country life, but not all is as it seems - there's a bit of a mystery surrounding the servant in charge of the house, let alone wondering who has been sleeping in her room and left behind a pouch of tobacco and a book of poetry. The locals are restless with the recent attacks from French pirates and Dona soon finds herself swept up in it all as it appears it is her house and land they have been using as their hideaway and the handsome Frenchman Jean-Benoit Aubery impossible to resist. That's all I'm telling, read it for yourself. While certainly not Du Maurier's best, it was a very enjoyable tale of love, pirates, a daring escape or two in just in the nick of time and frankly I had a hard time putting it down.
Review by AdonisGuilfoyle
16/06/2015
Freud would have had a field day with Dona St Columb, the heroine of 'Frenchman's Creek'. Not only would she rather be a boy, but she views the French pirates she meets as father figures, willing to take her with them on their adventures (unlike her own father when she was a child). This novel is the fantasy of a bored housewife, or an aristocratic lady's midlife crisis. Dona, who married a dimwit lord because she liked his eyes and his laugh, has two children that she can take or leave, and a reputation as a 'flirt' at court. She claims she is a good mother ('If you are so excellent a mother, what are you doing on the deck of <i>La Mouette</i> with your legs tucked up under you and your hair blowing about your face, discussing the intimacies of marriage with a pirate?'), but abandons her young children for a mad fling with a Frenchman. She dresses up in her husband's breeches and plays at being a highwayman for a laugh, but resents her reputation as a 'spoiled whore, lusting after new sensations, without even a whore's excuse of poverty'. The message of a woman breaking free of society's expectations to find freedom and love outside the home lacks subtlety, and whereas the sentiment is occasionally worded poetically , the cliched pirate device is more Harlequin historical romance than Daphne Du Maurier. And I really hated Dona, a selfish and childish Mary Sue creation lacking the depth of the unnamed narrator in <i>Rebecca</i>. Entertaining, but forgettable.
Review by startingover
16/06/2015
Not her best, this frothy tale of romance and adventure is redeemed for me by the central character of Dona St Colomb, whose spirit is alien to the roles expected of her by her society. The French pirate represents her alter ego, the freespirit she would like to be. [July 2004]
Also in the Virago Modern Classics series | View all