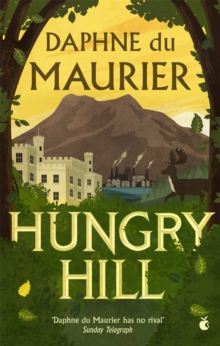 Description
I tell you your mine will be in ruins and your home destroyed and your children forgotten . . . but this hill will be standing still to confound you.' So curses Morty Donovan when 'Copper John' Brodrick builds his mine at Hungry Hill.
The Brodricks of Clonmere gain great wealth by harnessing the power of Hungry Hill and extracting the treasure it holds.
The Donovans, the original owners of Clonmere Castle, resent the Brodricks' success, and consider the great house and its surrounding land theirs by rights.
For generations the feud between the families has simmered, always threatening to break into violence . . .
Information
Format: Paperback
Pages: 528 pages
Publisher: Little, Brown Book Group
Publication Date: 01/05/2008
ISBN: 9781844084524
Free Home Delivery
on all orders
Pick up orders
from local bookshops
Reviews
Showing 1 - 3 of 3 reviews.
Review by rainpebble
16/06/2015
Hungry Hill by Daphne du MaurierOur story begins in 1820 as Copper John, patriarch of the Anglo-Irish Brodrick family, prepares to mine Hungry Hill for copper. Unfortunately he neglects to ask permission of the hill first and for the next hundred years it visits its vengeance on one generation of the family after another.The book isn't really long enough for a family saga of five generations. Successive family members are born and rapidly grow up only to be whisked from the scene by the latest tragic occurrence. The men, apart from Copper John, are flawed and weak. The women are stronger but are overwhelmed by the circumstances of their lives and that of their families. There were characters within the book that drew me in but the pace of the book didn't allow for intimacy between character and reader. Du Maurier's most powerful novels focus on a single drama played out among a small number of characters and are written in the first person. Hungry Hill has a vast cast, a wide scope and a third person narration. Towards the end of the book when the narrative concentrates on telling the story of the last days of the mine and of the impact of its closure on the community, it becomes much more compelling. This is a novel about decline and decay, a theme all too relevant to those who lived through two world wars and the Great Depression. Still and all this is a book that I cannot stop thinking about. I really wanted to dig into the characters and though I was unable, I still loved the story and recommend it.
Review by Renz0808
16/06/2015
The Brodricks of Clonmere gain great wealth from the power of Hungry Hill that they make into a mine, extracting the copper the mine provides. The Doonovans were the original owners of Clonmere Castle and they resent and curse the Brodricks success. For generations the feud between the two families has been going on and on until it reaches it startling eruption. This novel is a bit different from other works by Daphne du Maurier, it deals with a large span of time from 1820-1920, and has a large cast of characters none of which are more important than others as they all build on each other and become important as the novel progresses. Romance scenes in this novel are not as huge foundations as they are in her other books like Rebecca, Jamaica Inn, or My Cousin Rachel. The romance that goes on in this book more builds up on other elements of the novel. Even though I found this book to be a little different from some of the other books that I have read by Daphne Du Maurier I still really enjoyed Du Maurier's ability to create a unique cast of characters all of whom has faults but readers can still fall in love with these characters, despite their faults. The only thing I would have liked better in this book would have been more descriptions of the mines or mining lives, to me this was the only part of the novel that I had a hard time imagining or becoming real. I don't think this was the best of Daphne Du Maurier's novels that I have read thus far I still really enjoyed the style because it was different and I thought it showed how versatile she is as an author.
Review by MeditationesMartini
16/06/2015
One of the fun things about coming to a new book is figuring out what kind of story is being told, and I like it when the author doesn't telegraph it too much. Here, for instance, I wasn't sure if this was gonna be a gothic tale of Morty Donovan's curse on the Brodricks, or a "classy romance" like <i>Rebecca</i>, or social commentary on the miners and their plight and the hard obtuse men in the high castle, or an epic-sweep potboiler like Edward Rutherfurd or James Michener. It comes closest to the last, but Du Maurier has too classical a sense of pacing and structure to throw in the kitchen sink, like those worthies--she limits it by and large to the story of one family, and because it's the family that owns the whole bundle and she doesn't try to make them better than they are, I mean were, I mean could have been if they had really existed, it doesn't come across either as self-indulgent class apologetics, which would have been the major danger. Instead, the main theme of the novel turns out to be education, and how raising a family is like growing a garden or maintaining a stately house or expanding a copperworks. (Hint: If you're lucky, you won't get a parent who gravitates toward the last of those metaphors.) Each generation and each individual patriarch brings a certain orientation to the baffling task of investing in flawed human capital on which th whole firm depends but which is also fallible and which, most importantly, you love--and as we see by the end, that sequestered, pater-dominated Victorian vision of the family not only owes a lot to Victorian capitalism, a moral philosophy whose central metaphor is investment of resources in anticipation of return, but also to the world of ealry industrial capitalism, where the family still looms so large and the fundamental social situation we have today, based not on investment but consumption--the malleable, self-creating individual still yet embedded in uncontrollable social forces--has not yet emerged. It's clear by the end, even, that the long Victorian dream is over and Henry-John, the last head of the family we meet, has been shaped by the intrusion of history in the form of the Irish uprising and Word War I into a character who will never have the springloaded sense of agency of his great-great-grandfather, Copper John. The mine closes because we're not builders anymore. But in the meantime there was that period where the capitalist classes thought they could build a clan of lions and scions withthe same kind of patience they did a mine, and it's fascinating enough to watch here that I don't give more than a mild shudder at the privilege that neither they nor, unfortunately, the author, really knows how to examine; a mild shrug reading about Hal working in the mine as it's closed down and all it amounts to for him is an "authentic experience" of poverty that would be as dispiriting as a rich kid's Africa volunteer trip if he didn't get beaten up and devoured by the mine and made into a kind of "copper Jesus," a much more twisted view of things but one which we can't be surprised at from Du Maurier, who also wasn't any better than she should have been and had the middle-class worship of property and the people to whom it arbitrarily accrues--and thus, a relatively accepting attitude as the last opportunity for this to become a novel with a social conscience sails by.
Also in the Virago Modern Classics series | View all