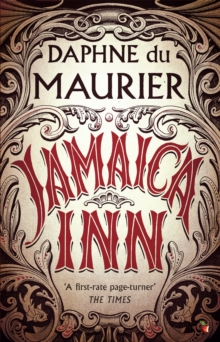 Description
After the death of her mother, Mary Yellan crosses the windswept Cornish moors to Jamaica Inn, the home of her Aunt Patience.
There she finds Patience a changed woman, downtrodden by her domineering, vicious husband Joss Merlyn.
The inn is a front for a lawless gang of criminals, and Mary is unwillingly dragged into their dangerous world of smuggling and murder.
Before long she will be forced to cross her own moral line to save herself.
Information
Format: Paperback
Pages: 320 pages
Publisher: Little, Brown Book Group
Publication Date: 06/03/2003
Category: Classic fiction (pre c 1945)
ISBN: 9781844080397
Other Formats
Paperback from £7.25
Hardback from £11.79
EPUB from £5.99
CD-Audio from £12.59
Free Home Delivery
on all orders
Pick up orders
from local bookshops
Reviews
Showing 1 - 5 of 6 reviews.
Previous | Next
Review by LibraryLou
16/06/2015
Harder to get into than some of her other's, but still a great read, very atmospheric and haunting. She really knows how to build a scene so that you can really picture yourself there.
Review by stillbeing
16/06/2015
What a fabulous book! So dark, so powerful, so thrilling . . . Mary Yellan is one of the best heroines I've come across, definitely my kind of person. Unfortunately, as I mostly read this one on public transport to and from work, it was often a bit stop-start for me, and it would probably be best served by longer, more sustained chunks of reading as the mystery and atmosphere is quiet well executed but details can get lost when you have to keep interrupting your reading as you've reached your station. But I loved the characters, loved the dark, brooding mood, and I loved how brutal it was - not shying away from the darker, crueller side of organised crime at all.But I'm so glad I've discovered Daphne Du Maurier . . . if Jamaica Inn is anything to go by, she sounds very much like my type of writer.
Review by AdonisGuilfoyle
16/06/2015
There's a strong flavour of 'Wuthering Heights' in this novel, transplanting the wildness of the moors from Yorkshire to Du Maurier's beloved Cornwall, but the story is more of a fairytale and the crisp narrative and driving dialogue often steps out of the time in which the tale is set (early nineteenth century, as with 'Wuthering Heights').Mary Yellan, a farm girl from the pastoral south of Cornwall, loses her only living parent, and is sent to stay with her mother's sister and monster of a husband in an isolated spot on Bodmin moor. She quickly learns of her uncle's dark and violent deeds as a 'wrecker' (luring ships into the coast, then plundering the wreckage to sell on), but is trapped there by her duty to protect her weak and nervous aunt. Torn between justice and family, Mary turns to two very different men for help - Jem, the handsome and enigmatic brother of her uncle, and Mr Davey, the albino vicar from a neighbouring villlage.I quite admired Mary to begin with - she is a 'resourceful' heroine who is outspoken yet brave enough to fight her own battles - but Du Maurier's constant harping on the inequality of the sexes eventually made me apathetic to her plight ('Once more she knew the humility of being born a woman, when the breaking down of strength and spirit was taken as natural and unquestioned.') Indeed, every other line seemed to be 'But I am a woman', or 'If I were a man', which is fine in the context of the story's setting, but rather demeans Mary's own strength. She is smart, forthright, industrious and rarely impeded by her gender, so why the bitter comparison of men and women? Yet Jem, the Hareton-esque brother of Mary's Heathcliffian uncle, is a witty and carefree love interest, who plays his cards close to his chest and appeals to the hidden gypsy in Mary. And Mr Davey is a disturbing character indeed, a sort of pantomime villain in negative.A very dark and brooding gothic adventure, most of which takes place in the wind and the rain on the bleak moors, 'Jamaica Inn' is not one of Du Maurier's better novels. Although the story began at a dramatic pace, the narrative flagged in the middle, and the 'twist in the tale' was flagposted too early to be effective - for a relatively brief book, it took me far too long to read.
Review by JessicaLouise23
16/06/2015
Having been to stay at Jamaica Inn a few times myself I've wanted to read this book for a while because having been to the place I can literally picture everything that goes on there. I read Daphne Du Maurier's most popular novel Rebecca earlier this year and loved it so I was really looking forward to reading this gothic tale on a wet English evening. This book was fantastically creepy and I loved that I could picture the main character Marys surroundings. Granted this book wasn't as good as Rebecca and I don't think I'll enjoy another Daphne Du Maurier quiet as much but this book was still wonderful in its own right. Du Maurier is an extraordinary story teller and her writing always gives me goose bumps. I have to admit I did guess the ending quiet early on in the book but I didn't enjoy the journey any less. Over all I give Jamaica Inn 4 stars and can't wait to read some more of Daphne Du Maurier's work over the year. A great modern classic.
Review by prettycurious
16/06/2015
This book definitely draws you in, making you turn each page in your desire to find out what happens. My main criticism relates to the romance part of it. It feels far too rushed and the last chapter has a 'tacked on' feel to it and is very unsatisfactory.
Also in the VMC Designer Collection series | View all