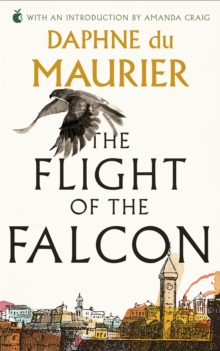 The Flight of the Falcon
Paperback
Description
As a young guide for Sunshine Tours, Armino Fabbio leads a pleasant, if humdrum life -- until he becomes circumstantially involved in the murder of an old peasant woman in Rome.
The woman, he gradually comes to realise, was his family's beloved servant many years ago, in his native town of Ruffano.
He returns to his birthplace, and once there, finds it is haunted by the phantom of his brother, Aldo, shot down in flames in '43.Over five hundred years before, the sinister Duke Claudio, known as The Falcon, lived his twisted, brutal life, preying on the people of Ruffano.
But now it is the twentieth century, and the town seems to have forgotten its violent history.
But have things really changed? The parallels between the past and present become ever more evident.
Information
Format: Paperback
Pages: 320 pages
Publisher: Little, Brown Book Group
Publication Date: 20/11/2004
ISBN: 9781844080700
Free Home Delivery
on all orders
Pick up orders
from local bookshops
Reviews
Showing 1 - 2 of 2 reviews.
Review by patrickgarson
16/06/2015
The Flight of The Falcon is definitely not one of Du Maurier's strongest novels. Ever walking the line between a kind of neo-gothic and slipping into parody, Du Maurier stumbles a little in this one. That being said, her regular strengths are on display as usual and the book finishes with a bang. An act of charity towards a beggar one night sets Armino Fabbio on a path that will take him to his childhood town of Ruffano, and into the darkest parts of both his, and Ruffano's, past.Du maurier's regular preoccupations fill The Flight of The Falcon: guilt, passions, and svengali-like figures. The breath of the past clouding our present vision and a sense of terrible destiny. And let's face it, they're great preoccupations! And Du Maurier handles them so well.Unfortunately some of her regular flaws manifest themselves as well, exacerbated by her contemporary setting of a university in the sixties. On every subject bar his family, Armino is a somewhat cold and alienated character. He seems sexless if not outright repulsed by sensuality; almost prudish and judgmental. The roiling passions Du Maurier stokes so well in the individual are undeniably a little silly when brought to bear on whole populations. The idea of an extremely violent feud between Commerce students and Arts students is almost comically improbable, even in the sixties - and I say this as a Commerce-turned-Arts student myself! Her irrationality works grandly on individual people but expanding it to a collective madness is a bridge too far. Likewise her plot takes a little too long to get off the ground, and once it does the pace renders it more predictable than it should be. There are a few swerves along the way, but the destination is ultimately predictable from very early on. And yet, the Du Maurier's talent is enough to keep you reading until the end - at which point you can safely read Amanda Craig's insightful foreword without having 3/4s of the novel ruined (god I hate that; make it an afterword for god's sake!). The Flight of The Falcon is one for Du Maurier fans only; she's produced much stronger work.
Review by shanaqui
16/06/2015
The Flight of the Falcon is rather typical of du Maurier's work, brooding and gothic and beautifully atmospheric. Her prose is a treat to read, as ever, though the main character/narrator seems even more colourless than her usual -- I don't think I've really sympathised deeply with any of her narrators, but I won't even remember this narrator's name by tomorrow morning, I think.Definitely not du Maurier's best, but if you really enjoy her prose and the gothic mood she can invoke, this one is a solid example of the species.
Also in the Virago Modern Classics series | View all