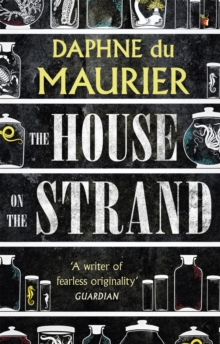 The House on the Strand
Paperback
Description
When Dick Young's friend, Professor Magnus Lane, offers him an escape from his troubles in the form of a new drug, Dick finds himself transported to fourteenth-century Cornwall.
There, in the manor of Tywardreath, the domain of Sir Henry Champerhoune, he witnesses intrigue, adultery and murder.The more time Dick spends consumed in the past, the more he withdraws from the modern world.
With each dose of the drug, his body and mind become addicted to this otherworld, and his attempts to change history bring terror to the present and put his own life in jeopardy.
Information
Format: Paperback
Pages: 352 pages
Publisher: Little, Brown Book Group
Publication Date: 01/05/2003
ISBN: 9781844080427
Other Formats
EPUB from £4.99
eAudiobook MP3 from £11.89
Free Home Delivery
on all orders
Pick up orders
from local bookshops
Reviews
Showing 1 - 5 of 5 reviews.
First read when I was all of 12, I still love the imagination that sparks this book.
Review by murraymint11
16/06/2015
The concept was intriguing, but the chapters in which the narrator went back to the 1300's were pretty boring. I simply did not care what was going on with those characters. Lord So-and-So was cheating on Lady Whoever etc. etc. It was difficult to track the relationships. The thing that kept me reading was the sub-plot set in the narrator's real life. The increasing tension between the narrator and his wife, and his increasing addiction to the time travel drug, were well written.
Review by sarbow
16/06/2015
Time travel - with a twist! Rather than the typical story, where a historic character gets transported to the modern world, (or vise versa)...this one involves a drug that makes the user see what's A happened in the past, while he is still physically in the present. There are complications to this version of time travel too! Well worth a read!
Review by anneearney
16/06/2015
It took me a long time to get into this book, but I'm not sure why. The main character takes a drug that causes him to hallucinate that the is seeing what happened six hundred years before and he becomes more interested in these people than in what is going on in his current life. From there, it's a struggle between the past and the present for his attention. About halfway through the book, I found the past story more interesting as well and from then on it was a good read.
Review by shanaqui
16/06/2015
I don't know why I've always been reluctant about reading Daphne du Maurier's work: I don't know what I thought it was going to be like, because both this and Rebecca were atmospheric and intriguing. Slower than your average thrillers maybe, but I do think there's something in them that captures the mind. A little patience works wonders.<br/><br/>The narrator's background contempt for Vita, not fully realised by himself, is both well written and discomforting: the hints at the end that it could have been all in his mind are interesting -- it seems almost a cliché looking at it that way, but it read well here, and oh, the ending.<br/><br/>I got into the medieval story than the modern one; like the narrator I found it more real, full of passion and life -- which really, I suppose, shows it to be a fiction, or at least that the narrator experiences it in the episodic manner of fiction, while his real life remains unsatisfactory.<br/><br/>Anyway, like the narrator I'm glad to have experienced Roger and Isolda's stories. And I can understand the draw of them for the protagonist, and how prepared he is to throw what he has away to see them, to know them.<br/><br/>I'm half wishing I was writing the dissertation on time travel we all joked about in the first semester of my MA. It'd give me an excuse to keep on thinking about this book.
Also in the Virago Modern Classics series | View all