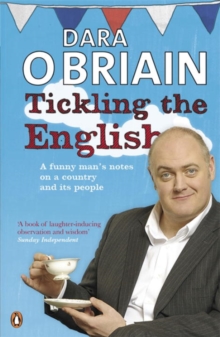 Tickling the English
Paperback
Description
Nostalgia, identity, eccentricity, gin drinking and occasional violence...these are just some of the themes that stand-up comedian Dara O Briain explores in Tickling the English.
O Briain moved to England many years ago, but when he takes his show on tour around the country - from deserted seaside towns and remote off-shore islands, to sprawling industrial cities and sleepy suburbs - it's clear to him that his adopted home is still a bit of an enigma.
Why do the English pretend to be unhappy all the time?
Why can't they accept they rank about 5th, in everything? And what's with all the fudge? But this Irishman loves a challenge; he's certainly got the gregarious personality and the sure-fire wit to bring down the barriers of that famous English reserve, and have a good old rummage inside.
Swapping anecdotes with his audiences and spending time wandering in their hometowns, this nosy neighbour holds England up to the light while exploring some of the attitudes he brought over here with him too.
As Dara goes door-to-door in search of England in this part tour diary, part travelogue, the result is an affectionate, hilarious and often eye-opening journey through the Sceptred Isle.
Information
Format: Paperback
Pages: 320 pages, Integrated b&w maps, endpage collages
Publisher: Penguin Books Ltd
Publication Date: 01/04/2010
Category: Humour
ISBN: 9780141046662
Free Home Delivery
on all orders
Pick up orders
from local bookshops
Reviews
Showing 1 - 2 of 2 reviews.
Review by sloopjonb
16/06/2015
A slight book. It is basically a tour diary filled out with some reflections on England and the English. Some funny anecdotes. O Briain is a clever and perceptive man who could have written an interesting book on how England looks to an Irish immigrant, but this isn't it.
Review by Sile
16/06/2015
As funny as I find Dara's stand-up shows, his hosting of <i>Mock the Week</i> and appearances on <i>Three Men and</i> ... "boats", I found this book less than amusing. It was sold to me as a humourous book on the English persona (not unlike Bill Bryson's "<i>Notes from a Small Island</i>"), but actually it's a diary of the comic's interactions with, and observations of punters attending his shows as he tours England with the occasional jump to Dublin for a boost.This tour diary gives a run-down of the audience members he spoke to, a description of the theatre, some snippets from the show, few of which were amusing, and then a generalisation about the English which Dara then proceeds to attempt to prove false. That's pretty much it. It was dry reading that felt like it dragged: I genuinely laughed about four times in the book. I will say that I have watched several of Dara's performances and appearances and much of the material in "<i>Tickling the English</i>" I had already encountered. Still, I really pushed myself to finish in case it got better and reflected the reviews it's received. It didn't.I'm afraid I just can't recommend "<i>Tickling the English</i>".