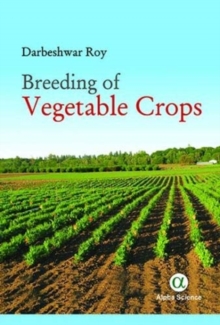 Breeding of Vegetable Crops
Hardback
Description
BREEDING OF VEGETABLE CROPS is about evolution and genetic resources of vegetable and spices.
This book describes breeding methods for development of cultivars for organic farming, adaptation of specific climate and resistance to various biotic and abiotic stresses including climate change.
This book will be useful to undergraduate and post-graduate students, teachers and researchers in the field of vegetable and spices breeding. * Breeding methods including biotechnological methods have been described* Hybridization techniques in different vegetable crops is dealt with carefully* Discussed open pollinated varieties, composites, synthetics and seed production techniques* Open pollinated cultivars, pure breeding cultivars and inbred lines have been described* Detailed discussion on hybrid cultivar development on cytoplasmic male sterility and self incompatibility* Methods of grafting to treat diseases.
Information
Format: Hardback
Pages: 360 pages
Publisher: Alpha Science International Ltd
Publication Date: 30/08/2018
Category: Biology, life sciences
ISBN: 9781783323722