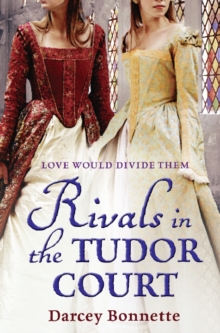 Rivals in the Tudor Court
Paperback
Description
Thomas Howard founded a dynasty and staked his place in history through a self-serving ruthlessness that allowed no rival to stand in his way.But the true rivals of the Tudor court were those who stood alongside him: his wife and his mistress, who would battle to the end for him...As Queen Catherine's maid, and daughter of the Duke of Buckingham, the future seems bright for Elizabeth Stafford.
But when her father gives her hand to Thomas Howard, third Duke of Norfolk, the spirited young woman must sacrifice all for duty.
Yet Elizabeth is surprised by her passion for her powerful new husband. And when he takes on a mistress, she is determined to fight for her love and her honour...Naive and vulnerable, Bess Holland is easily charmed by the Duke of Norfolk, doing his bidding in exchange for gifts and adoration.
For years, she and Elizabeth compete for his affections.
But they are mere spectators to an obsession neither can rival: Norfolk's quest to weave the Howard name into the royal bloodline.The women's loyalties are tested as his schemes unfold - among them the litigious marriage of his niece Anne Boleyn to King Henry VIII.
But in an age of ruthless beheadings, no self-serving motive goes unpunished - and Elizabeth and Bess will have to fight a force more sinister than the executioner's axe...
Information
Format: Paperback
Pages: 384 pages
Publisher: HarperCollins Publishers
Publication Date: 01/11/2011
Category: Historical fiction
ISBN: 9781847562586
Free Home Delivery
on all orders
Pick up orders
from local bookshops
Reviews
Showing 1 - 2 of 2 reviews.
Review by OpalCat1986
16/06/2015
To be honest I'm surprised this book got so many good reviews!I have read A LOT of historical fiction and this has to one of the first where I couldn't wait to finish not because I enjoyed it but because it was hard work. For starters; the title confused me. I understood the rivalry between the Duchess of Norfolk and Bess, and even between Norfolk and other courtiers, but hardly any of the events taken place between the 3 principle characters happens at court! The book reads more like a biopic of the duke of Norfolk than anything else. The historical background these characters live on almost nearly goes unmentioned except for the odd paragraph summarising the changes in religious practices and the radical changes made within the Tudor court and it's effect on the succession. It felt rushed and badly done.I found a true lack of detail, both in historical interest and as to a sense of the times. ALSO, why is every female character 'in tears' on every page! So frustrating and disappointing when there are so many authors writing about the same time period and characters who do it much better justice.
Review by Elysianfield
16/06/2015
As a child Thomas was brought up to know the importance of the Howard family. He takes it to heart and makes advancing his family his life mission and soon his star is rising in the court of Henry VIII. His marriage to outspoken Elizabeth Stafford is nothing but peaceful and is made worse when Thomas supports his niece Anne to get more power for the family. Then Thomas finds Bess Holland, who is the very opposite of his wife.<br/><br/>I was very curious to read this book because I didn't know that much about Thomas Howard as a person. And he really wasn't likeable guy!<br/><br/>I knew he was firstly married to Anne Plantagenet but I didn't know they had and lost four children. Their marriage seems to be a happy one but the loss of their children hardened him and made him fear losing the people he cared about.<br/><br/>Elizabeth Stafford wanted to marry another man and wasn't happy when told to marry the much older Thomas Howard. She soon starts to care about him but he's not easy man to live with and has short temper at times. <br/><br/>There were times, okay the whole book, when I just wanted to bang their heads together to get some sense! At first I felt like there was point made that every Howard man is evil and only thinks about power and the whole killing the dog thing. But I liked the relationship between Thomas and Anne and it was nice that he was happy for awhile.<br/><br/>And I really want to know if it's true that Thomas ordered his servants to beat his wife? I mean seriously! <br/><br/>The book is told from 3 point of views: Thomas, Elizabeth and Bess. I liked Bess's parts less because it was mostly Bess whining about Thomas being away or that she doesn't have husband and children.<br/><br/>In the end it was entertaining book but I still feel it lacked it something. Or maybe Thomas annoyed me way to much…