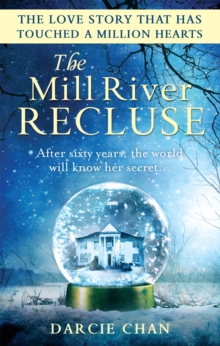 The Mill River Recluse
Paperback
Description
Disfigured by the blow of an abusive husband, the widow Mary McAllister has spent almost sixty years secluded in a white marble mansion overlooking the town of Mill River, Vermont.
Her links to the outside world are few: the mail, an elderly priest, and a bedroom window with a view of the town below.Most longtime residents of Mill River consider the marble house and its occupant peculiar, and few of them have ever seen Mary.
But three newcomers - a police officer and his daughter and a new schoolteacher - are curious about the reclusive old woman.
Only the town priest truly knows the Mill River recluse, and the secret she keeps . . . a secret that, once revealed, will change the town, and the lives of its residents, forever.In the tradition of Kim Edwards (The Memory Keeper's Daughter, The Lake of Dreams), The Mill River Recluse is a story of triumph over tragedy, one that reminds us of the value of friendship and the mysterious ways that love can come from the most unexpected places.
Information
Format: Paperback
Pages: 384 pages
Publisher: Little, Brown Book Group
Publication Date: 22/11/2012
ISBN: 9780751550214
Free Home Delivery
on all orders
Pick up orders
from local bookshops
Reviews
Showing 1 - 3 of 3 reviews.
Review by druidgirl
16/06/2015
Meet Mary Hayes McAllister, she is a woman who as a young girl was abused by her teacher and never returned to school due to developing a severe anxiety syndrome. Although she never let people get close to her she soon let Patrick McAllister after he pursued her and gained her trust. They finally married and a short time later he turned into a monster and severely injured Mary than killed himself in an automobile accident leaving Mary alone except for Patrick's grandfather and Father O'Brien. In order to understand this story fully please read this marvelous book
Review by JaneSteen
16/06/2015
Where I got the book: my sister read it and passed it on to me. She wasn't all that impressed.Whereas I would give this book about a 3.5, for the following reasons. A few years ago, when agents ruled the land and authors scuttled around under their feet unnoticed, there was a lot of advice going around about making your book easy to read for the poor dumb reader because, y'know, long words are difficult for us and distance us from the story. Chan evidently followed that advice, and lo and behold, an indie bestseller was born.And it's not a bad story per se, although the Big Secret became pretty obvious way before the end. There are a lot of readers who like small-town stories involving fallible characters, and when you add in perfectly decent writing that is "accessible" you're going to pull people in. Not entirely my cuppa, but I know that there's a knack to this kind of writing and Chan's nailed it. I've read way worse, by authors who've been picked up by trad publishing and touted as bestsellers. I kind of wish Chan had stayed indie, but I can understand how those seven-figure advances are hard to resist. Would I read more Chan? No, probably not. I like a little more layering and depth of character. We're talking here about the depth of a Ken Follett blockbuster, without the grand sweep of the plot which is the only reason I stay with those things. In a short novel, I want more bite.
Review by wearylibrarian
16/06/2015
I wanted this book to continue or ever! The small town of Mill River is the white picket fence community many people dream about. I fell in love with Mary and the rest of the town (well, maybe not with Leroy.....ok, definitely not with Leroy). My definition of a great book is one where, when you finally put it down you look around and say "Huh? Where am I?" I did that with this book. I am looking forward to reading many more books by this great author!