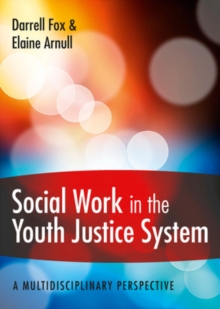 Social Work in the Youth Justice System: A Multidisciplinary Perspective
Paperback / softback
Description
This is a book for social workers working within the youth justice system; a highly demanding area of practice that requires a depth of knowledge and skill.
All Youth Offending Teams are required to employ a social worker, yet it is often a challenge to find space within youth justice practice to uphold social work values.
This practical book demonstrates how practitioners can work in creative, ethical and reflective ways within Youth Offending Teams.Topics include: LegislationMultiagency working Risk assessmentWorking with high risk offenders Alternative interventionsCase studies, vignettes and reflective questions are used throughout to help students and practitioners relate theory directly to practice. "This book is an excellent introduction to the important contribution of social workers in the field of work with young offenders.
Social work is a key profession in agencies working with such young people, especially in Youth Offending Teams, yet until now it has been a neglected area in social work literature.
This will be a key text for social work students and practitioners who need to have an overview of the functions, methods, skills and approaches to working with young offenders."Brian Littlechild, Professor of Social Work, University of Hertfordshire, UK"This is a timely book containing much useful information on young people, both as offenders and victims.
It covers issues of risk, the scaled approach promoted by the Youth Justice Board, interventions and reflective practice.
It will be essential reading for criminology and social work students who should learn about youth justice as well as other professionals in education, police etc.
I will be recommending it to my students."Professor Anthony Goodman, Department of Criminology and Sociology, Middlesex University, UK"Comprehensive, focused and immediately useful, this book is an articulate and highly readable synthesis of current thinking on social work and a framework to apply this in everyday practice.
A refreshing and inspiring view on delinquency and antisocial behaviour.
A must have for all the professionals working in the field of juvenile delinquency."Dalibor Dolezal, Assistant Professor, University of Zagreb, Faculty of Education and Rehabilitation , Sciences, Dept. of Criminology"Social Work in the Youth Justice System, by Darrell Fox and Elaine Arnull is a welcome analysis and explanation of the tasks and roles which social workers are required to undertake within the Youth Justice system in the UK.
Crime and offending by young people in particular are emotive subjects which the media, politicians and the public often feel compelled to share their views on.
This book examines in detail the complexities of working as a social worker with young people who offend and will assist prospective and current social workers to negotiate their way through the demanding youth justice environment.
The Authors rightly focus on the need for social workers to be creative, ethical and reflective while practicing within a challenging, changing criminal justice setting.
The chapters on Assessment, Risk, Legislation and Interventions provide information and analysis which will enable practitioners to understand their roles and be better placed to deliver effective interventions for young people."David Ellicott, Senior Lecturer, Division of Guidance, Youth Studies and Youth Justice, Nottingham Trent University, UK
Information
Format: Paperback / softback
Pages: 184 pages
Publisher: Open University Press
Publication Date: 16/03/2013
Category: Social work
ISBN: 9780335245697
Free Home Delivery
on all orders
Pick up orders
from local bookshops