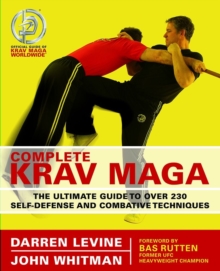 Complete Krav Maga : The Ultimate Guide to Over 200 Self-defense and Combative Techniques
Paperback
Description
EVERY MOVE, EVERY TECHNIQUE Darren Levine has my unqualified support and gratitude for hiscontributions to Krav Maga. "Imi Lichtenfeld, founder of Krav Maga" The official self-defense system of the Israeli Defense Forces, Krav Maga offersyou an easy-to-learn yet highly effective self-defense system that emphasizesinstinctive movements, practical techniques and realistic training scenarios.Based on the principle that it is best to move from defense to attack as quicklyas possible, "Complete Krav Maga" teaches fast-escape maneuvers combined with powerful counterattacks.
Whether you are big or small, male or female, young or old, you can use Krav Maga to protect yourself by exploiting an assailant s vulnerabilities.
Learning Krav Maga will give you the fitness, skills and confidence to feel safer and more secure every day.All the moves in "Complete Krav Maga" from beginner Yellow Belt to advanced Brown Belt are described in depth and illustrated with step-by-step photos: BeginnerPunches, kicks, knee strikes and basic defense movements IntermediateFurther self-defense moves, counterattacks, and defenses against knives, guns and sticks AdvancedAll weapon defenses, groundfighting techniques and advanced strikes"
Information
Format: Paperback
Pages: 296 pages, col. Illustrations
Publisher: Ulysses Press
Publication Date: 31/01/2007
Category: Combat sports & self-defence
ISBN: 9781569755730
Free Home Delivery
on all orders
Pick up orders
from local bookshops