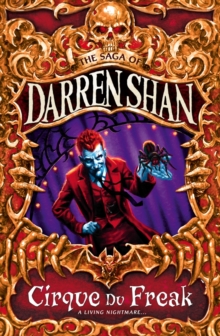 Cirque du Freak
Paperback
Description
The chilling Saga of Darren Shan, the ordinary schoolboy plunged into the vampire world. Darren goes to a banned freak show with his best mate Steve.
It's the wonderfully gothic Cirque Du Freak where weird, frightening half human/half animals appear who interact terrifyingly with the audience.
Darren - a spider freak - `falls in love' with Madam Octa - an enormous tarantala owned by Mr Crepsley.
Darren determines to steal the spider so that he can train it to perform amazing deeds.
But his daring theft goes horribly wrong and Darren finds himself having to make a bargain with a creature of the night. Something out of the ordinary is set against the background of children's normal lives to chilling effect.
Atmospheric, funny, realistic, moving and... terrifying.
Information
Format: Paperback
Pages: 192 pages
Publisher: HarperCollins Publishers
Publication Date: 04/01/2000
Category: Horror & ghost
ISBN: 9780006754169
Other Formats
Paperback from £6.35
CD-Audio from £11.45
EPUB from £1.99
eAudiobook MP3 from £16.76
Free Home Delivery
on all orders
Pick up orders
from local bookshops
Reviews
Showing 1 - 3 of 3 reviews.
Review by Clurb
16/06/2015
The first book in a twelve-book series. This certainly isn't the writing of Pullman or Rowling, but there are some nice original ideas in there. A quick, entertaining read for an adult, good enough that I immediately went out and bought the other 11 books.
Review by Elphaba71
16/06/2015
It all Started on a Toilet!!! So begins the Saga of Darren Shan. Brilliant book, A real page turner, I read this in less than a day, unable to put it down. A dark, witty story that gets quite grusome! Can't remember Teen/young adult books being like this when I was in that age bracket!!
Review by AdonisGuilfoyle
16/06/2015
Yes, another vampire book, but honestly, it's mere coincidence! I caught the 2009 film adaptation of <i>Cirque du Freak: the Vampire's Assistant</i> on television recently, and was quite surprised by how witty and inventive the story was for a show aimed at children/teenagers, so I Kindled the first book in the series. Darren Shan is a British author, but the film is set in America, which is obviously the main difference. Also, the characters on screen are slightly older/darker than in the books - vampire Larten Crepsley is a reluctant mentor to young Darren Shan, inducting him into the Cirque du Freak as his half-vampire assistant, whereas the author's version is more of a compassionate father figure. Shan has written a whole series of books about Crepsley and Shan, and the film is based on the first four, so their rather dubious relationship probably develops in later instalments. (Twenty-first century paranoia has a lot to answer for, but Crepsley's interest in Darren is a bit dodgy, not least the 'blooding' ceremony where the vampire tastes the young boy's blood and then sucks on his fingers to heal the wounds.)The plainly spoken first person narrative is most definitely aimed at young readers, full of exclamation marks and explanations of any words over two syllables (in fact, Shan even illustrates what an exclamation mark is at one point - !) I admire the author's patience and dedication to his intended demographic - don't scare the kids off with words they don't understand - but think Shan may have taken the dumbing down a smidge too far. I haven't read any of the Harry Potter books, but I'm sure J.K. Rowling doesn't include dictionary definitions in brackets.I did enjoy the story and characters, despite being about twenty years too old for the books. I think I might skip the rest of the Darren Shan series to read about Larten Crepsley, though.
Also in the The Saga of Darren Shan series | View all