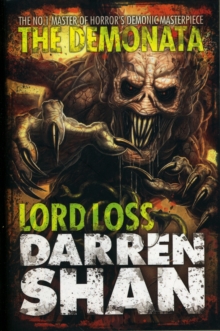 Description
The first book in the Demonata, the demonic symphony in ten parts by multi-million-copy bestselling horror writer Darren Shan... When Grubbs Grady first encounters Lord Loss and his evil minions, he learns three things:* the world is vicious,* magic is possible,* demons are real. He thinks that he will never again witness such a terrible night of death and darkness. ...He is wrong.
Information
Format: Paperback
Pages: 272 pages
Publisher: HarperCollins Publishers
Publication Date: 03/01/2006
Category: Horror & ghost
ISBN: 9780007193202
Other Formats
EPUB from £2.74
Paperback from £6.59
Free Home Delivery
on all orders
Pick up orders
from local bookshops
Reviews
Showing 1 - 5 of 5 reviews.
Review by SamuelW
16/06/2015
Lord Loss is quite possibly the best book I have ever read. Thrilling, suspenseful, and planned on a set of brilliant ideas – even if the story had not been masterfully told, it would still have been breath-taking. I eagerly await the next nine books in the series, and will never play a game of chess the same way again.One of the greatest features of Darren Shan's previous series of books was the way he built his characters through adversity, then tore chunks out of them through misfortune and disaster. He understands clearly that sometimes people never go back to the way they were before an accident. Because his books are written in the first person, he seizes the opportunity to change even his style of writing to express a change in the character. Such is the skill and subtlety with which he does this, both in his old books and Lord Loss, that reading his work can pull readers through a range of indescribable emotions, without him even having to write them.Writing horror books for children would be no easy task in this day and age, as it is very hard to scare today's desensitised generation. Descriptions of blood and gore have limited effect, (although Lord Loss has its share of those,) so a horror book must also use suspense and powerful, 'creepy' language to create a frightening scene. Even with all these techniques in place, it is still nigh impossible to create a book that will scare as much as a movie. Unlike authors such as R.L. Stine, Shan does not make plain scariness the main focus of this book, but creates an exciting, fast-paced adventure based on supernatural creatures and ideas, rather than attempting just scariness and creating a shallow, ordinary novel. In this way, Lord Loss won't have readers cowering under their beds, but it doesn't waste time trying too hard; it gets on with a thrilling, enjoyable story.I would recommend Lord Loss to anybody who likes fantasy, horror or adventure books. Not too long, not too short, not boring for a moment, this is a book you can't help but love. Perhaps a little too much blood for people under the age of twelve, though.
Review by ANIRoom042009
16/06/2015
This book is about a boy called Grubbsnitch "Grubbs" Grady who saw his parents and sister ripped to pieces by demons.after moving to live with his Uncle dervish he thinks he will never encounter these demons again, He wouldnt if his half brother Billy BillE Spleen who falls to the Lycrothopic Curse ( Curse of werewolves)
Review by sensitivemuse
16/06/2015
Without really giving anything away as it is a short novel, this one really did blow me away in the beginning. When I read the first forty pages into this book I didn't realize how bloody and gory it was going to be. It was pretty graphically violent and I was wondering to myself if I really did pick up a young adult book. Anyway, if you can read through it, I really did like how the demons were described. They were very different and it read like something out of either the short stories of HP Lovecraft, or out of just a very wild imagination. It was good though as it made the demons seem more evil looking, macabre, and scary. I found it a little hard to picture them at first, but Darren Shan made such wonderful descriptions that it was if these things could only come from nightmares (and they do get really creepy once you finally pictured them). The storyline is really good and it's short, and to the point which makes it a fast and engaging read. The characters are few so it's very easy to keep track of them, although the story centralizes on Grubbs. The character names in this book are rather strange and odd (Grubbs and Dervish to name a few examples) but it adds more quirkiness to the book and it makes it a different read. Although the names are funny and strange, I find them much better than the names you find in other young adult novels that seem to name their characters names that celebrities would give their kids (rather stupid names too). The names just seem to fit this novel more. The only criticism I can find in this novel is towards the end, where Grubs can "suddenly" do things he could never do. I found it as an easy way out of finishing the book and a little too convenient. Everything ended just a little too quickly and the ending, well, all I ask is: "how did he wake up??!!!!" leave me with asking more from this series. Also, please note, this book is not for those that aren't into gore. Coarse language may be an issue to some, I expected it, and it does add a bit more realism to Grubb's character (since when did teenagers never swear in real life?)Overall, a fast engaging read, with creepy descriptions of demons, and enough action to get you to read the rest of the series of The Demonata. This is a great beginning of what seems like a great series.
Review by TeamDewey
16/06/2015
This was recommended by my grandson, if you like werewolves it is great. There are multiple books that follow in the series.
Review by ArkhamReviews
16/06/2015
I actually really enjoyed reading this novel - far more than I was expecting.Although gratuitously violent in places, the plot was compelling and contained some twists that actually did take me by surprise. The first person narrative and clipped sentences helped to make the novel fast-paced and exciting, nicely reflecting its dark subject matter.Without spoiling anything, I felt that the mechanics of the climax were utterly enthralling. Even though I was in no read doubt about how the novel would end, I was still curious to see exactly how the events would pan out.If I had to pick out a fault, I did think that the relationship between Grubbs and his family could have been fleshed out a little better. In the few chapters that they appeared, I did not learn enough about them to make me really feel sad to see them go. However, I did not feel that this especially detract from the novel. The book was highly enjoyable and a must read for any horror fans.
Also in the The Demonata series | View all