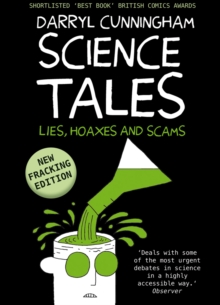 Science Tales : Lies, Hoaxes and Scams
Hardback
Description
A non-fiction comic book about science, scepticism and denial, Science Tales debunks media myths and decodes some of today's most fiercely-debated issues: climate change, electroconvulsive therapy, the moon landing, the MMR (Measles, Mumps and Rubella) vaccine, homeopathy, chiropractic, evolution, science denialism and, new for this edition, fracking.
Thoroughly researched and sourced, Cunningham's clear narrative, graphic lines and photographic illustration explain complicated and controversial issues with deceptive ease.
Information
Format: Hardback
Pages: 204 pages, Illustrations
Publisher: Myriad Editions
Publication Date: 31/05/2009
Category: True stories
ISBN: 9781908434364
Free Home Delivery
on all orders
Pick up orders
from local bookshops
Reviews
Showing 1 - 2 of 2 reviews.
Review by psutto
16/06/2015
GoodCunningham is obviously angry with woolly thinkers and presents a series of graphic essays on science denial. These are on the moon landing hoaxes, chiropractic, homeopathy etc. and the dangers in anti-science thinking such as the dangers of not vaccinating your children. Each is succinctly told and the art is of the usual high standard. Stands well side by side with his [psychiatric tales] and well worth a read. Overall - These are incredibly lucid and a joy to read even if I already knew a lot of the detail.
Review by TPauSilver
16/06/2015
Well, I can tell you from the outset that this book won't change anyone's mind as I consider myself pro-fracking and this book is anti-fracking. It was easy to nod along when I was talking about the things I agreed with but then it got to something I didn't agree with and I found it patronizing so I'm guessing a lot of other people would have this problem. Cunningham does set out a variety of the main arguments for certain pieces of science in this book. He summarizes these arguments pretty well and in some detail so if you're trying to consolidate your view this is probably a good book for you. It'd also be a good book for a young reader encountering these issues for the first time, though it isn't pitched that way explicitly. Sometimes he could have stood to go into more detail and have provided in-text citations instead of just dumping a list of citation at the end of the book without context. The thing that really got me about this book, though, was how superfluous the drawings were. This book is a collection of good mini essays with random drawings behind them. In a comic the art should always add something to the text. Here it doesn't. It isn't even exceptionally pretty to look at. It just feels a bit gimmicky if you're not using it right.