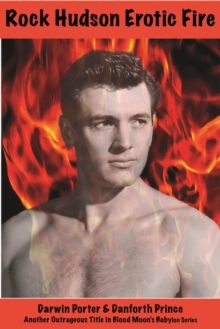 Rock Hudson, Erotic Fire
Paperback / softback
Description
Rock Hudson reigned in the late 1950s and early '60s as Hollywood's greatest ambisexual swordsman," seducing icons who included Marilyn Monroe, Elizabeth Taylor, Errol Flynn, Tyrone Power, Joan Crawford, and Lauren Bacall, as well as hundreds of other lesser-known players willing to share some Pillow Talk." Mamie Van Doren, one of Hollywood's bustiest, most provocative, and most promiscuous bombshells, asserted loudly that the boulder that Rock's agent named him after was a big one." Just released from the Navy, the muscled, 6'4" hunk, then known as Roy Fitzgerald, arrived in Hollywood with a clear understanding of what he wanted: I don't want to be an actor...I want to be a movie star! And I don't give a damn how many casting couches I have to lie on!" To that end, between gigs as a truck driver, he donned very tight, faded jeans and seductively stationed himself near the entrances of such studios as Warners and Universal.
Eventually, he was discovered."Eventually, he was assigned roles in a string of B-pictures, playing handsome Apaches, easy-on-the-eyes sea captains, and drop-dead gorgeous Ordinary Joes" whose charm moviegoers remembered way beyond the limited scale of his roles. Meanwhile, power players in Hollywood clamored for him up close and personal, too.
According to Yvonne de Carlo, Rock was predatory after midnight." Stardom finally arrived based on a performance opposite Jane Wyman (she had divorced Ronald Reagan) in that tear-jerking melodrama, Magnificent Obsession (1954).
Replicating her passion offscreen, she demanded (unsuccessfully) that he marry her.
Hudson had already been defined as the sexiest man alive" when he was assigned the role of a Texas cattle rancher in Giant (1956).
During its filming in the dusty hamlet of Marfa, Texas, he sustained affairs with both Elizabeth Taylor and James Dean.
Three eventful years later, his status as one of the most popular (and most consistently profitable) actors in Hollywood was reinforced, based on his co-starring performance opposite Doris Day in the spectacularly successful Pillow Talk (1959). Together, as a captivating duo, they went on to appear together in other artfully campy" battles of the sexes.
Compiled as a memorial for the 30th anniversary of his death, Rock Hudson Erotic Fire is based on dozens of face-to-face interviews with Rock Hudson's friends, co-conspirators, and enemies. Researched over a period of a half century by Hollywood insider Darwin Porter, it reveals the secretive actor's complete, never-before-told story within a context of scandal-soaked and historic ironies, many of which have never been fully exploreduntil now.
Although maligned by the media because of the stigmas associated with his AIDS-related death, Rock showed inner courage and manly grace as he lay dying.
This is my shining hour," he told his closest friends, as the media rushed to Out" him as a celebrity bisexual" who'd been stricken by the then-stigmatizing scourge.
Today, beloved by hordes of cultish fans and film buffs around the world, Rock Hudson is the often misunderstood (until now) Golden Icon of a glamorous bygone era.
Information
Format: Paperback / softback
Pages: 624 pages
Publisher: Blood Moon Productions, Ltd
Publication Date: 01/09/2017
Category: Biography: arts & entertainment
ISBN: 9781936003556
Free Home Delivery
on all orders
Pick up orders
from local bookshops