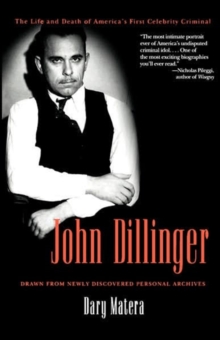 John Dillinger : The Life and Death of America's First Celebrity Criminal
Paperback / softback
Description
John Dillinger is an adrenaline-fueled narrative that reignites America's fascination with the suave and deadly desperado who became the FBI's first Public Enemy, whose story,until now,has been riddled with rumors and fiction.
Dillinger and his bank-robbing gang cut a criminal swath never to be equaled, thrilling a nation in the throes of the Great Depression.
When caught, Dillinger staged one of the most harrowing prison escapes imaginable,only to finally be betrayed by the infamous "Lady in Red." John Dillinger brings to light bank robberies never before reported detailed plans for major crimes that Dillinger nearly implemented the revelation that the Lady in Red was actually a police plant and the startling motives behind John Dillinger's execution by rogue FBI agents.
With access to the thousands of sources collected in the world's foremost Dillinger archives,including dozens of photographs,New York Times bestselling author Matera describes every robbery, shoot-out, and prison escape as though he had choreographed them himself.
Information
Format: Paperback / softback
Pages: 448 pages, 40 B&W photos
Publisher: Carroll & Graf Publishers Inc
Publication Date: 29/04/2005
Category: Autobiography: general
ISBN: 9780786715589