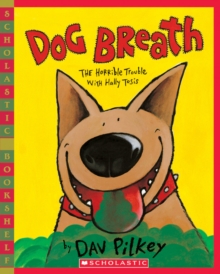 Description
Hally the dog has horrible breath. Even the skunks avoid her. So when Mr and Mrs Tosis decide enough is enough and try to find a new home for Hally, the Tosis kids hatch a plan to get rid of her bad breath and save Hally.
They try everything: a breathtaking view, Breath of a Salesman and even a speedy rollercoaster, but nothing works.
Only a miracle can save Hally now...
Information
Format: Paperback
Pages: 32 pages, chiefly illustrations (colour)
Publisher: Scholastic US
Publication Date: 01/06/2004
Category: General
ISBN: 9780439598392
Free Home Delivery
on all orders
Pick up orders
from local bookshops
Reviews
Showing 1 - 5 of 5 reviews.
Review by ericarhenry
16/06/2015
I didn't really care for this story. It's about Hally, a dog that lives with the Tosis family (Hally Tosis) who has bad breath. The family decides they have to give her away because her breath is so bad. Then, some burglars break into the home and Hally make sthem pass out cold from her bad breath. The family wakes up and turns them in and gets a big rewards and is very happy that Hally saved them. I thought the story was pretty silly and I really thought it was a bad idea to say that the family was giving away their dog because of bad breath. That might be overly sensitive of me, but I think homeless pets are too big of an issue to say something like that. I guess a kid would probably be entertained. The illustrations were ok. I just didn't really care for it.
Review by booschnoo
16/06/2015
This is an example of realistic fiction because it includes situations that take little imagination to see in this world. I would not say it is a good example of realistic fiction because it has a situation that is improbable in the world we know. Stars: PlotAge: Intermediate
Review by kelleyhar
16/06/2015
fun use of words with double meanings
Review by Schuman
16/06/2015
A really cute book about a dog named Hally Tosis who is a good dog but has one big problem, he had bad breath. One day grandma comes to visit and insists that the dog stinks and must go. They put up a sign free dog. The kids don't want him to go so they set out to find a way to get rid of his bad breath. They try things like looking at a breath taking view,seeing a scary movie that would leave him breathless, etc. Nothing works though, just when they think that they would have to get rid of him their house gets burglarized but they didn't get away because they fainted form Hally's bad breath. The family received an award for turning in the crooks and Hally became the most famous crime fighting dog in the country and the family decided to keep their dog.I liked the way they played with words and the illustrations showing how Hally's breath affect everyone, even the sun and a picture of Mona Liza. It would be fun as a class to find other books that play with words.
Review by hphipp2
16/06/2015
This book is about a dog name Hally who belonged to the Tosis family. Hally Tosis has awful breath. The Tosis family is considering giving her up because she's stinking up the whole house! So the Tosis children decide they are going to fix the problem. They take Hally to all of these different events and places that will "take your breath away" or "leave you breathless." But none of them work. Then one night, two burglars break into the Tosis home. Hally knocks them out with her terrible breath! This gives the Tosis parents enough time to call the police and make sure everyone is safe. This makes Hally Tosis a famous crime-fighting dog! And the Tosis family decides to keep her.This book is a fun, silly book with wonderful illustrations. It also promotes problem solving and taking initiative in family situations. The children use their knowledge about the situation and try to fix it. Even though they weren't the ones who convinced their parents to keep Hally, they still tried to solve a problem and do what was right.