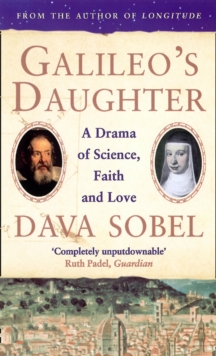 Galileo's Daughter : A Drama of Science, Faith and Love
Paperback
Description
From the international best-selling author of Longitude, Galileo's Daughter is the fascinating story of the relationship between the great Italian scientist Galileo and his daughter, Virginia.Galileo Galilei (1564-1642) was the foremost scientist of his day, `the father of modern physics - indeed of modern science altogether' in the words of Albert Einstein.
Though he never left the Italy of his birth, his inventions and discoveries were heralded around the world.
His telescopes allowed him to reveal a new reality in the heavens and to defend the astounding proposition that the Earth actually moves around the Sun.
For this belief he faced the Holy Office of the Inquisition and was subsequently tried for heresy and threatened with torture.
Galileo is brought to life here as never before - a man boldly compelled to explain the truths he discovered, human in his frailties and faith, devoted to family and, especially, to his daughter.
Since there could be no hope of marriage for his illegitimate daughter Galileo placed her, aged thirteen, in a convent near him in Florence.
She proved to be his greatest source of strength through his most difficult years.
Through letters, contemporary writings, their voices are brought to vivid life and woven into Dava Sobel's compelling narrative.
Galileo's Daughter tells the story of the most dramatic collision in history between science and religion.
Dava Sobel illuminates an entire era, when the flamboyant Medici Grand Dukes became Galileo's patrons, when the Bubonic plague destroyed a generation and prayer was the most effective medicine, when one man fought to reconcile the Heaven he revered as a good Catholic with the heavens he revealed through his telescope.
Galileo's Daughter is a rich and unforgettable story.
Information
Format: Paperback
Pages: 448 pages
Publisher: HarperCollins Publishers
Publication Date: 01/01/1999
Category: Biography: general
ISBN: 9781857027129
Free Home Delivery
on all orders
Pick up orders
from local bookshops
Reviews
Showing 1 - 3 of 3 reviews.
Review by annebil
16/06/2015
If you're interested in history of science and earlier perceptions of the Universe this is a very readable book. It is also a good angle of incidence to social history of the 1600's in Italy. The relationship between Galileo and his family, his daughter Maria Celeste, in particular, is both interesting and moving. To me it was not the kind of book I just HAD to read continously - but learnt something from reading it and had a pleasant reading experience.
Review by djalchemi
16/06/2015
I read this on the recommendation of my friend Fred, and because I'm fascinated by the ructions that went on as the heliocentric view of the solar system gathered momentum (I'd recommend John Banville's Doctor Copernicus and Kepler, and Koestler's Sleepwalkers). I was generally disappointed. The book took me four months to finish, albeit with a break. The slant you get on Galileo is much less about his skills as a savvy dramatist and self-publicist -- see Paul Feyerabend's take -- and much more humble and pious, shown particularly through his relationship with his elder daughter (his two other children remain in the background, in Galileo's thoughts and feelings as well as in this account, if Sobel is right). The book takes a long time to get going: it feels like the first half is scene-setting. What I found most interesting was the account of Galileo's meticulous attempts to avoid precisely the fate that eventually befell him. He got everything signed off in triplicate by the church, having schmoozed everyone up to and including the pope, before he published. But apparently the pope needed a scapegoat, or something to make him look strong and distract attention from other political problems, so Galileo was persecuted and imprisoned (mainly as a guest of indulgent and sympathetic dukes and bishops) despite his best efforts. What annoyed me was that this volte face by the papacy is dealt with very quickly and superficially -- while we get pages and pages of what's growing in the convent garden, or what's happened in Galileo's wine cellar. The central, defining dramatic turn of events on which Galileo's personal story hangs is left underexplained.
Review by mbmackay
27/01/2016
One of those special books to be treasured. Wonderful writing telling a story combining the human & the science.Read in Samoa Jan 2004