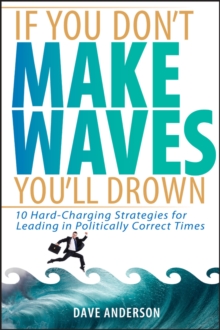 If You Don't Make Waves, You'll Drown : 10 Hard-Charging Strategies for Leading in Politically Correct Times
Hardback
Description
This is not your typical business book. You wona t find academic remedies to your business challenges or exhortations to create a warmer and fuzzier workplace.
In fact, youa ll find the opposite--tips on how to be a tougher, take--no--prisoners--style manager.
Ita s time to stop letting workplace political correctness push you around and get serious about your business.
In If You Dona t Make Waves, Youa ll Drown, Dave Anderson doesna t pull any punches.
Offering simple wisdom and politically incorrect solutions that really work, hea s not here to inspire you, but to taunt you into action.
He shows you how to be more direct without being disrespectful; how to give honest feedback even when it hurts; and how to hold employees accountable for results.
In short, youa ll learn how to get the most out of your business.
Want more politically incorrect wisdom?* Tenure is a license for laziness* Diversity without competence is worthless* Dona t trade your values for valuables* Political correctness is a disease that destroys the workplace* Ita s time to fight back!
Free Home Delivery
on all orders
Pick up orders
from local bookshops