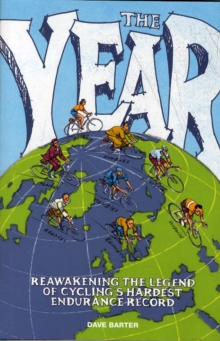 The Year : Reawakening the legend of cycling's hardest endurance record
Hardback
Description
In 1939 British cyclist Tommy Godwin cycled75,065 miles in a single year.
Think about that for a second: it's an average of over 200 miles each day. Andit's a mark that stillstands after almost eighty years.
In The Year, Dave Barter resurrectsthe legend of the year record - a challenge nearly as old as bicycles themselves - and the cyclists whopushed themselves to establish and break it. Barter uncovers the stories behind these riderswho would routinely cycle over a hundred miles a day in the race to set newrecords.
Americans such as John H. George who recorded over 200 `centuries', nineteen double `centuries' and three triple `centuries'in the late 1800s.
The British advertising executiveHarry Long, whose annual tallies of over 20,000 miles in the early twentiethcentury led to the founding of the formal cycling year record and Cyclingmagazine's Century Competition. The Englishman of French descent, Marcel Planes,whose 1911 record of 34,666 miles stood for over twenty years.
Not forgettingthe legends of the job-seeking Arthur Humbles, the one-armed vegetariancommunist Walter Greaves, the `keep-fitgirl' BillieDovey and the staggering mark set by Godwin who left a youthful Bernard Bennetttrailing in his wake. Meticulous research through the annuals,archives and news stories of the bicycling world is backed up with insightsfrom the families of these legendary cyclists, as well as Dave's own analysis of theriders' years in numbers. There is no moredifficult challenge in cycling. The Year is the definitive story ofthese phenomenal cyclists.
Information
Format: Hardback
Pages: 256 pages, Illustrations, black and white
Publisher: Vertebrate Graphics Ltd
Publication Date: 08/10/2015
Category: Biography: sport
ISBN: 9781910240434
Free Home Delivery
on all orders
Pick up orders
from local bookshops
Also by Dave Barter