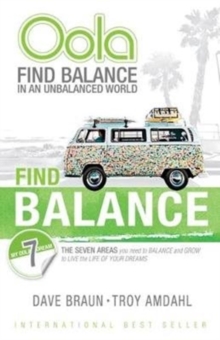 Oola Find Balance In An Unbalanced World
Paperback / softback
Description
Oola: The phenomenon of creating a personalstate of awesomeness that is taking the world by storm!Oola is not your typical self-help book.
There's nothingtypical about the OolaLife at all, and just like its originsfrom the expression "oh la la!", Oola is a "state of awesomeness."It's when your life is balanced and growing in the 7 key areas of life-Fitness, Finance, Family, Field (career), Faith, Friends, and Fun.
Oola is not stale and stuffy advice; it's more like a collection of kick-ass anecdotes and sincere stories that just happen to have meaningful messages. What started out in 1997 as a small group of buddiesmeeting once a year at the Hard Rock in Vegas to set goals for the future has turned into a nationwide phenomenon. Maybe you've seen Dave and Troy traveling the highwaysand cities of America in their 1970 VW Surf Bus coveredwith colourful Oola stickers.
Those stickers were placedthere by people just like you who are putting their dreamsinto action, ready to have the OolaLife. And just like them,you, too, are designed for greatness and have a uniquelife purpose.
Free Home Delivery
on all orders
Pick up orders
from local bookshops