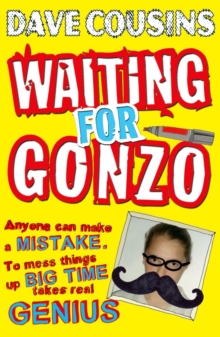 Waiting for Gonzo
Paperback
Description
Meet Oz ...he's got a talent for trouble but his heart's always in the right place (well, nearly always). Uprooted from his friends and former life, Oz finds himself stranded in the sleepy village of Slowleigh.
When a joke backfires on the first day at his new school, Oz attracts the attention of Isobel Skinner, the school psycho - but that's just the beginning.
After causing an accident that puts his mum in hospital, Oz isn't exactly popular at home either.
His older sister's no help, but then she's got a problem of her own ...one that's growing bigger by the day. Oz knows he's got to put things right, but life isn't that simple, especially when the only people still talking to you are a hobbit-obsessed kid and a voice in your own head! Packed with action, heart and humour, Waiting for Gonzo takes you for a white-knuckle ride on the Wheel of Destiny as it careers out of control down the Hillside of Inevitability.
The question is, do you go down laughing? Or grit your teeth and jump off?
Information
Format: Paperback
Pages: 256 pages
Publisher: Oxford University Press
Publication Date: 01/03/2013
Category: Humorous
ISBN: 9780192745460
Free Home Delivery
on all orders
Pick up orders
from local bookshops
Reviews
Showing 1 - 1 of 1 reviews.
Review by EdGoldberg
16/06/2015
On Marcus "Oz" Osbourne's first day at his new high school the following happens: (i) upon exiting the car when his mother drops him off, he takes the wrong rucksack and discovers in his English class that he has his sister's dirty underwear rather than his books, (ii) he draws a moustache (because they are funny) on a photo on the bulletin board of a female student, Isobel (nicknamed Psycho) Skinner and (iii) he gets on the wrong side of a bully, Gareth, who proceeds to make his life miserable. Later, Oz manages to alienate his only friend, Ryan, by taking pictures on his phone of Ryan in costume at a fantasy reenactment camp. When Oz' phone is stolen, the pictures make their way onto the internet, causing Ryan to be called Frodo. These mishaps and more are detailed in a letter to the mysterious "G", whose identity is revealed midway through the book. Unfortunately much of the humor was lost on this reader, especially considering that Oz is a high school student. The antics are more elementary/middle school oriented. Even when Oz thinks he is doing something good, it is never with the other person in mind. Oz is not a likeable character and comes off as dumb and totally self-absorbed. Many plot points are unrealistic. Waiting for Gonzo takes place in England and several of the idioms need American translation, such as Kecks. There are funnier "guy" books by such authors as Andrew Smith, Gordon Korman and Frank Portman.